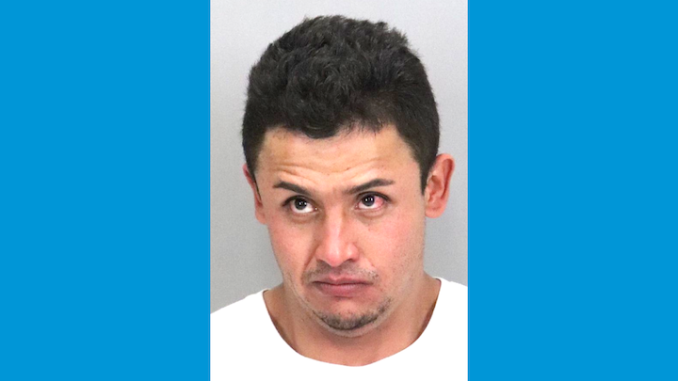 By the Daily Post staff
Palo Alto police have arrested a man who allegedly smashed a home's glass front doors and swung at the homeowner with hedge shears before running away.
On Sunday (Jan. 9) at 11:45 p.m., police got a call from a woman reporting the incident at her home in the 1100 block of Oregon Avenue. Officers responded immediately and learned that the burglar had just fled on foot. An officer located the man walking on a nearby off-ramp from Highway 101 and detained him without incident at 11:50 p.m.
Moments earlier, the woman was alerted by her home security camera and then heard breaking glass.
She screamed and that caused her husband to run downstairs to investigate. She then called police.
The husband and wife were at home with their two children, both under the age of 8. The wife stayed with their children to keep them safe, police said.
The husband discovered a stranger standing outside their shattered glass front door, holding a large pair of hedge shears. The man continued smashing the glass out of the door with the shears, and eventually stepped into the home, police said.
The husband shouted at the suspect to get out of his house. The man swung the hedge shears three or four times at the husband but did not hit him, police said.
The husband was able to grab the shears and take them away from the man, and then use them to strike the suspect in the shoulder once. This caused the burglar to walk out the front door and leave the area on foot.
Paramedics treated both the husband and the suspect for minor cuts caused by the broken glass from the shattered front door. Neither man's physical injuries required hospitalization.
Police determined that the suspect was under the influence of narcotics. Officers booked the suspect, 26-year-old Alexis Gomez Quezada of Half Moon Bay, into the Santa Clara County Main Jail for residential burglary (a felony), assault with a deadly weapon (a felony), and being under the influence of narcotics (a misdemeanor).
Anyone with information about this incident is asked to call police at (650) 329-2413. Anonymous tips can be e-mailed to paloalto@tipnow.org or sent via text message or voice mail to (650) 383-8984.