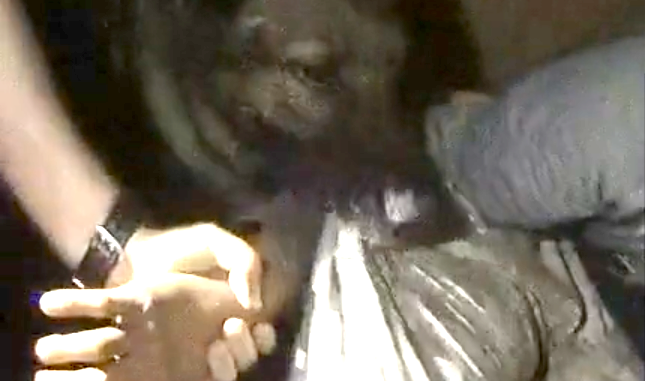 Palo Alto police body-cam video of the incident. Mountain View police body-cam video (scroll to the bottom).
BY BRADEN CARTWRIGHT
Daily Post Staff Writer
The city of Palo Alto paid $135,000 to a man who was bitten by a police dog while he was innocently sleeping in a backyard, according to a settlement agreement released today (Jan. 5).
In exchange for the payment, Joel Alejo will release the city of all liability from the incident.
It's the fifth lawsuit related to police misconduct that Palo Alto has settled since February 2016, amounting to $1,282,500 including the Alejo case.
The settlement stems from a dog attack on June 25, 2020, at 1847 Elsie Ave. in Mountain View that hospitalized Alejo with gashes on his leg.
Alejo was sleeping in his family's backyard while police were searching for a kidnapping suspect around 2:30 a.m.
Palo Alto Agent Nick Enberg responded with his German shepherd. He entered the property through the side gate and came across Alejo laying down in a shed.
Enberg then ordered his dog in Czechoslovakian to bite — "dirsh" — and he repeated the command over 30 times while Alejo yelled and tried to get the dog off of him.
Alejo turned out not to be the person that police were looking for. He was taken to the hospital with exposed fat cells and damaged nerves, according to his lawsuit.
District Attorney Jeff Rosen didn't file charges against Enberg, who still handles a police dog, according to a September police report.
Alejo sued Palo Alto, arguing that police "engaged in the vicious conduct maliciously, willfully and oppressively" with the intent to harm him. He said police use dogs in "sadistic and unconstitutional" ways.
Alejo signed the settlement on Dec. 20, but miscommunication between attorneys delayed the city from getting it until yesterday, City Attorney Molly Stump said.
Police didn't tell the public about the incident when it happened. In January 2021, six months after the incident, the Post used the California Public Records Act to get a copy of Alejo's claim against the city seeking $20 million.
Police released the body-cam video in March after another request by the Post, sparking outrage from residents and the Palo Alto City Council.
Earlier lawsuits the city of Palo Alto has
settled alleging police misconduct
June 2020 — City of Palo Alto paid $75,000 to Mahmoud Elsayed who was wrongfully arrested for vandalism. The district attorney dropped the vandalism charge and Elsayed passed a lie-detector test. Elsayed claimed officers engaged in racial profiling and Islamaphobia.
November 2019 — City of Palo Alto paid $572,500 to Buena Vista Mobile Home Park resident Gustavo Alvarez, who was beaten by then Palo Alto Sgt. Wayne Benitez in an incident caught on video. Benitez is now awaiting trial on misdemeanor charges.
April 2018 — City of Palo Alto paid $250,000 to Tajae Murray, a black Palo Alto High School senior who was mauled by a police dog outside the 7-Eleven at 401 Waverley St. in 2016. 
February 2016 — City of Palo Alto paid $250,000 to Tyler Harney over an August 2013 traffic stop during which his arm was broken. Police claimed that both of the dash cameras that could have recorded the incident were broken at the time. The city settled just before an expert was going to be brought into the case to inspect the cameras to see if any tampering took place.