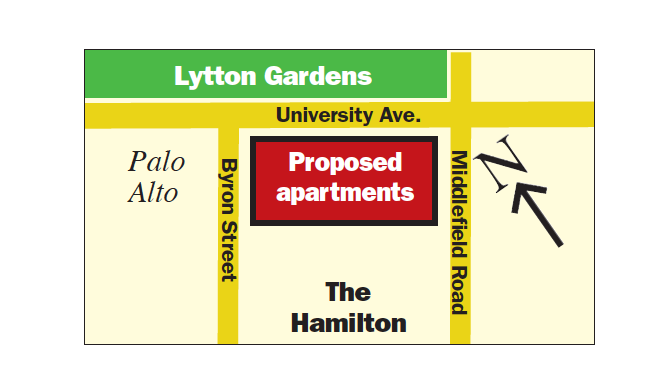 This story was originally published in the print edition of the Daily Post on Oct. 1. To get all of the local news first, pick up the Post at 1,000 Mid-Peninsula locations.
BY BRADEN CARTWRIGHT
Daily Post Staff Writer
A developer is proposing to build a four-story apartment building at the corner of University Avenue and Middlefield Road.
The block-long building at 660 University Ave. would have 73 apartments, mostly studios, with offices on the ground floor and two levels of underground parking. Eleven of the units would be rented at a below-market rate.
The developer, Lund Smith, hasn't turned in a formal application but is instead asking the Palo Alto City Council on Oct. 25 for their opinions on whether the project would fly.
Smith would demolish two dental offices to make room for the project, which stretches from Middlefield Road to Byron Street. Cars would enter on Middlefield, and the front doors to the offices and apartments would be on University Avenue.
A large oak tree in the middle of the block would be preserved.
The development is proposed between two four-story senior homes, Lytton Gardens and The Hamilton.
UPDATE: City Council members offered mostly positive reactions to the proposal at a study session on Oct. 25. Smith has now submitted a formal application to the city. No hearing dates have been set.