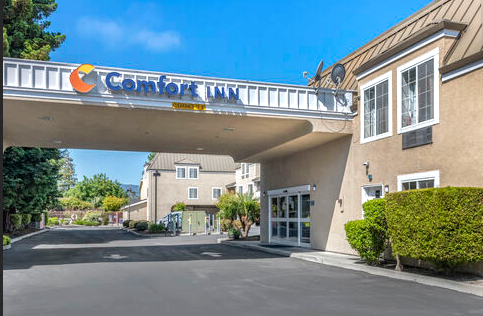 BY EMILY MIBACH
Daily Post Staff Writer
The San Mateo County Board of Supervisors will vote Tuesday (Jan. 4) on whether the county ought to spend $17 million to buy a hotel on El Camino Real in Redwood City for low-income housing.
The county is considering buying the 51-room Comfort Inn at 1818 El Camino, across from Harry's Hofbrau.
At $17 million, the cost per room would be $333,333.
The county's Housing Department says the best use for the hotel is low-income housing, according to a report from Housing Director Raymond Hodges.
Hodges report does not give the rent the county will charge per room or how tenants will be selected.
The $17 million may come from state funds, under Gov. Gavin Newsom's Project Homekey, which is intended to end homelessness. The county has submitted an application to the state, and is waiting to hear back. If the county doesn't get the money from the state, it may use money in its general fund to pay for the hotel.
The board is not voting on how to pay for the project, but instead tell Hodges and County Manager Mike Callagy to keep working on the purchase.
This is the third hotel in Redwood City the county plans to buy. Last year, the county bought two hotels, TownPlace Suites in Redwood Shores and Pacific Inn at 2610 El Camino Real, for $57 million.
The Redwood Shores provides housing for low-income seniors and the hotel on El Camino is being used for the homeless.
The county has also purchased a hotel in San Mateo and Half Moon Bay.