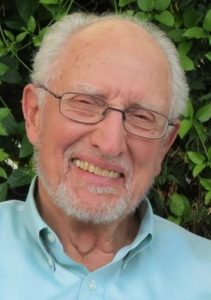 May 9, 1927 – December 13, 2021
Robert Erwin Rutherford, age 94 of Portola Valley, passed away peacefully Monday December 13, 2021. Bob is survived by his sister Emily Myers, his children, Thomas Rutherford, Janet Rutherford, Amy Rutherford (Rayan Ghazal) and Jeffrey Rutherford (Tamara Riley), and grand-daughters Madison and McKenna Riley.
Bob was born on May 9, 1927 in Cleveland, Ohio, and grew up in Iowa until joining the Army Air Corps in 1945, serving in Germany until receiving an Honorable Discharge in 1947. Bob attended college in Florida, earning his Bachelor of Science degree in Math and a Master of Arts degree in History.
While in college Bob met and married Margaret Carolyn Lee, with whom he was happily married for 60 years until Carolyn passed away in 2010. Bob and Carolyn lived their lives with purpose and passion, beginning their adventure in the Caribbean while Bob was with Pan American Airlines, then in Baltimore and New York while Bob was working at the Martin Company and the Ford Foundation, who transferred the family to Cairo, Egypt to help develop agricultural capabilities in Africa. Following Egypt, the family moved to Woodstock, England where Bob attended Oxford University for a year, and finally back to the U.S. settling in Palo Alto, California.
Bob's focus shifted to education, holding various positions at Golden Gate College, San Francisco City College, Foothill College and Menlo School and College. As Bob embraced the educational community, he was introduced to a fledgling organization that owned the Research Vessel "Inland Seas", where he and Carolyn began to help shape and develop educational programs in estuarine sciences that became the Marine Science Institute in Redwood City. In 2020 the Marine Science Institute celebrated 50 years of providing science education to students of all ages in the San Francisco Bay Area.
Bob and Carolyn lived in Palo Alto for 37 years before moving in 2001 to The Sequoias in Portola Valley where they thrived as active and contributing members of that senior community.
A memorial gathering will be held in Summer 2022. Memorial contributions can be made to the Marine Science Institute at www.sfbaymsi.org or a charity of your choice.