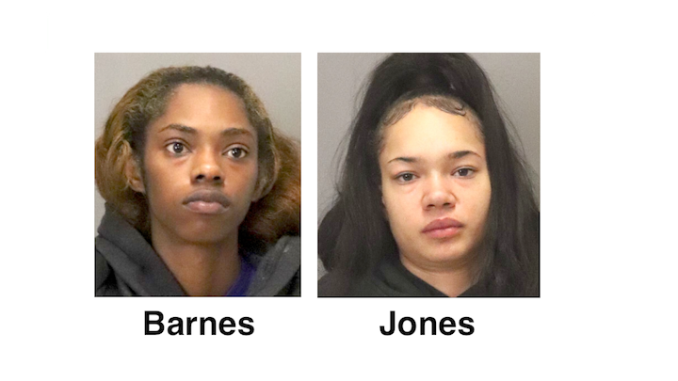 BY BRADEN CARTWRIGHT
Daily Post Staff Writer
Palo Alto has been caught in a wave of organized retail burglaries sweeping across the Bay Area, and law enforcement officials are teaming up to stop the mobs of thieves.
Most of the thieves have gotten away although two women were arrested in Menlo Park after fleeing from an attempted heist at the high-end consignment store TheRealReal at 379 University Ave. in Palo Alto.
Over the weekend, hundreds of people rushed into stores, ransacked the shelves and fled in cars at malls and shopping centers all over the Bay Area.
District Attorneys from six counties announced yesterday they were teaming up to combat the rise in organized retail theft.Gov. Gavin Newsom said on Monday that there would be more CHP officers near shopping centers throughout the Christmas season.
"These people need to be held to account," he said. "We need to break up these crime rings and we need to make an example out of these folks."
On Sunday night, a group of 30 to 40 people first hit the Larkspur location of TheRealReal — a store that sells designer clothes, bags and jewelry — and then headed to the Palo Alto store.
They tried to get in but couldn't break through the reinforced glass front door before a security guard sitting in his car called 911 and police arrived.
No headlights, no license plates
Palo Alto police Lt. Brian Philip said many cars had their headlights off, no license plates, and they took off in all directions when police got there.
"It's going to be a challenge to see if we can obtain anything of value," he said.
One car without a license plate, a green 2017 Ford Escape SUV, was stopped in Menlo Park with merchandise from the Larkspur store, and two suspects were arrested: Keyonni Marie Jones, 20, of Richmond, and Imani Kevyonna Barnes, 21, of Vallejo.
Philip said that police are seeing if they have video from body or dashboard cameras to figure out what cars were used. The store's surveillance likely didn't capture any footage because the thieves never made it inside, he said.
Earlier burglary in Palo Alto
In the pre-dawn hours on Thursday morning, three people broke into the De Novo Fine Contemporary Jewelry in downtown Palo Alto and stole more than $50,000 worth of silver and gold jewelry from the display cases, police said.
Cameras captured two people wearing dark clothes, hooded sweatshirts and Covid masks breaking into three display cases and grabbing items for just over a minute, while a third person waited in a getaway car
The Stanford Shopping Center has seen a rise in organized retail theft coming into the Christmas holidays, though the groups have been smaller in size.
The thieves get away more often than they're caught. Those who are caught often come from the East Bay in stolen cars.
It was a wild weekend in the Bay Area:
• Over 30 burglars rammed vehicles at several stores, including Louis Vuitton, Burberry and Yves Saint Laurent, in San Francisco's Union Square on Friday night. Nine suspects were charged with felonies yesterday.
• On Saturday night, about 80 people, some wearing ski masks and wielding crowbars, ransacked Nordstrom in Walnut Creek, assaulting two employees. Three people were arrested.
• In San Jose, Lululemon at Santana Row and a sunglasses store in the Westfield Valley Fair Mall were robbed at the same time on Sunday evening.
• On Sunday night in Hayward, about 10 people used sledgehammers to smash glass cases in a jewelry store and grabbed the items within.
• Nine people broke into a mall in Pleasanton early Monday morning, but the would-be thieves fled empty-handed.