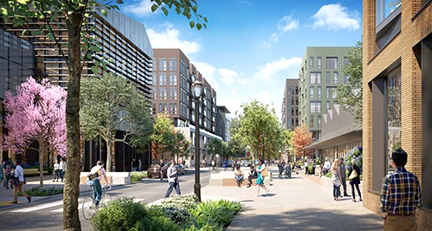 By the Daily Post staff
A real estate developer specializing in life sciences buildings has purchased the five-block Greystar project in the Five Points area of Redwood City that the City Council approved last year.
The development, now called Elco Yards, is touted in a statement by IQHQ as being the first large-scale office and life science development in downtown.
The project spans five blocks between El Camino Real and the train tracks and Maple and Cedar streets, replacing Towne Ford and Hopkins Acura. No construction date has been announced. The purchase price wasn't disclosed.
IQHQ specializes in renting office space to life science companies, which bodes well for the city, because those types of companies will likely have fewer workers commuting to town compared to a tech company.
The project, approved in November 2020, will consist of 540 apartments, 530,000 square feet of office space, a child care center that will serve 60 to 70 children and 28,000 square feet of retail space. Of the retail, 19,000 square feet of it will be reserved for "family-friendly" entertainment.
Greystar will rent out the apartments, 147 of which are reserved for low-income earners.
"We are pleased to welcome a leading life science development company to downtown Redwood City. As a nurse, I know the value of life science research and the positive health impacts it can have on people's lives," said Mayor Diane Howard in a statement.