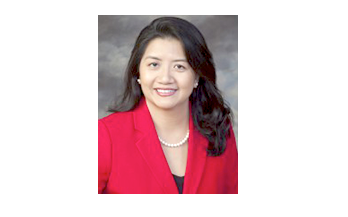 BY BRADEN CARTWRIGHT
Daily Post Staff Writer
Thuy Nguyen, the president of Foothill College for the past five years, has been fired by her board after the faculty revolted against her.
The Foothill-DeAnza Community College District board decided on Monday not to renew Nguyen's contract after a "no confidence" vote by faculty on the same day. Nguyen will be paid until her contract expires on June 30, 2022, and former President Bernadine Chuck Fong will serve as acting president until then, Chancellor Judy Miner said.
As Foothill president, Nguyen was paid $242,816 in 2020, and $354,153 with benefits, according to Transparent California.
The list of faculty's grievances against Nguyen is long, with 74 pages of comments mostly criticizing her. One theme throughout is that Nguyen failed to collaborate with the Academic Senate on decisions. The school follows a "shared governance" model with the senate and the president making decisions jointly, but the senate says that process has been undermined. She has repeatedly vetoed faculty decisions or otherwise ignored existing governance structures to pursue her own ideas, chemistry instructor Kathleen Armstrong said in a letter to the board.
'High-handed'
"This high-handed management style has created a climate of distrust and disillusion among faculty," Armstrong said.
Nguyen couldn't be reached for comment.
Kathryn Maurer, the president of the Academic Senate, said that when issues have been brought forward, Nguyen hasn't worked to fix them. Concerns are more about poor decision-making processes rather than specific decisions that Nguyen made, Maurer said.
Different professors and instructors shared examples of Nguyen's decisions with which they disagreed. One was upset that she canceled the "first year experience" program, and another was bothered that she stopped a college-wide discussion of learning outcomes.
Lisa Eshman, a veterinary technology instructor, said Nguyen has a laser-like focus on diversity, equity and inclusion, but that wasn't enough to stop Eshman from signing onto the "no confidence" vote. To Eshman's dismay, Nguyen eliminated the dean position in Biological and Health Sciences and canceled the Veterinary Assisting Apprenticeship program, despite the program having secured state support and a $700,000 grant, Eshman said.
One of the 'boat people'
Not everyone opposes Nguyen. A couple of students voiced their support, and the Vietnamese American Professional Women of Silicon Valley said Nguyen was making positive changes toward a more inclusive society.
"We condemn in the strongest term any attempt to tarnish or diminish in any way one of our community's most precious assets," board president Diane Le said.
When she was 3, Nguyen and her family joined the wave of "boat people" who fled Vietnam after the end of the war, according to the college district's biography of Nguyen. Her family drifted in the Pacific Ocean on a boat for more than 20 days before a commercial ship rescued them and took them to a refugee camp in Japan, and then to the U.S.
Nguyen earned her B.A. from Yale and law degree from UCLA School of Law, where she was a member of the inaugural class of the Public Interest Law and Policy Program.
She had been president for five years.
Foothill College serves about 13,000 students. Voters from Palo Alto, Mountain View, Los Altos, Los Altos Hills and Sunnyvale elect the five-person board.
Miner, Fong and Landsberger will hold a "college-wide meeting" on Tuesday (Nov. 1) at noon "to begin the healing process," Miner said.