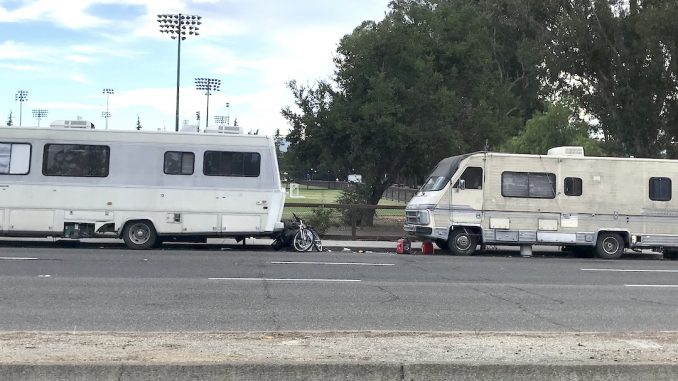 BY BRADEN CARTWRIGHT
Daily Post Staff Writer
The Palo Alto City Council is split over whether to require criminal background checks for homeless people who legally sleep in church parking lots.
The city's "safe parking" ordinance that allows up to four vehicles to park overnight at churches is rolling out, and neighbors appealed one of the first applications at the Unitarian Universalist Church at 505 E Charleston Road. The appeal set up a broader discussion about background checks last night (Aug 30).
Opponents of the background checks — who include homeless advocates, members of the Unitarian church and Santa Clara County — say they create barriers to care and further myths that homeless people are more dangerous.
Supporters of the background checks — including senior residents of the Stevenson House and business owners — say that checking for convictions for sexual or violent crimes ensures safety for all residents.
Councilwoman Lydia Kou, who helped draft the ordinance, says the council has an obligation to protect residents. More parking areas will be allowed, and she said she doesn't want to go through an appeal every time.
Councilman Greg Tanaka agreed with her, saying that community buy-in is key as the program expands.
Both council members said the homeless situation downtown is unacceptable. Businesses have homeless people living in their entrances, and business owners and children are afraid, they said.
Vice Mayor Pat Burt said he was concerned specifically about the church site because it is next to a bike path and Magical Bridge Playground, a playground designed to accommodate disabled kids.
On the other side of the coin, councilman Greer Stone said homeless people are not more likely to commit a crime than your average resident. He cited a couple of studies, and said there are countless more, that found that homeless people are less likely to commit crimes than people who live in houses.
The council discussed using Megan's Law, which requires sex offenders to regularly report their address, to help police the parking lots. City Attorney Molly Stump said the law doesn't come with restrictions on where people can live, unless the offender also has a court order.
The council will consider the appeal of parking at 505 E Charleston Road next month. Santa Clara County opposes background checks and has said it may cut funding if such checks are required.
The discussion about background checks comes as the council entertains a few ideas around homelessness.
The nonprofit LifeMoves is pursuing a temporary shelter at the former Los Altos Treatment Plant, in industrials east of Highway 101. LifeMoves would require background checks for residents.
Deputy City Manager Chantel Gaines and Assistant Police Chief Andrew Binder are creating a cost proposal for an "outreach team" of police officers and social workers to deploy downtown.
The council endorsed Santa Clara County's "community plan to end homelessness," although they said that the plan was too ambitious and not specific.
The county admits it's in a losing battle: For every one homeless person that is housed, two or three more end up on the street, the plan says.