Are these your sweet dreams? Because this luxurious Marge Carson bedroom set is bursting with confident glamour and is looking for an owner who wants to live the luxe life with it.
Available right now at Flegel's Design in downtown Menlo Park, this is a custom one-of-a-kind set, said Flegel's owner Brian Flegel.
"This set is unique, made just for us," said Flegel. "This was a design exploration from Marge Carson. You won't see anything like this again."
The bed set is crafted in a striking light dove gray wood finish accented with soft shimmering antique silver. The bed sits in a wooden bed frame with notched square tapering legs and a large headboard of plush cream velvet. The set also features two large three-drawer bedside chests with antiqued mirrored drawers. Each nickel ring pull has a crystal inset above it. The set also comes with a matching dresser and mirror.
But even with crystals and mirrors, the perfectly coordinated pale color palette keeps the set surprisingly unassuming, said Flegel. This is not for the minimalist, but for someone who wants to enjoy confident elegance in their most personal space.
Made just in Marge Carson's manufacturing headquarters in Southern California, you could call this bed set a screen siren, a glamour girl.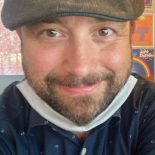 "I'd love to meet the person who would fall in love with this and help make that connection," said Flegel.
Founded in 1947, Marge Carson employs skilled artisans from around the world to handcraft their fine furnishings with relentless attention to every sculpted detail. Even in a world of constantly evolving fashions and lifestyles, the company remains true to its namesake's founding premise: beautiful designs with impeccable quality, terrific shape and scale and perfectly tailored applications of phenomenal fabrics, trims, finishes and accents.
To see whether this bedroom set is the one for you or to check out any number of other fine furnishings, call Flegel's Design at (650) 326-9661 or stop by their downtown Menlo Park showroom Tuesday through Saturday.