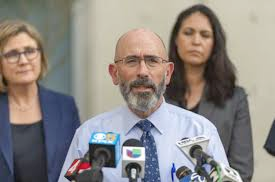 BY EMILY MIBACH
Daily Post Staff Writer
Santa Clara County officials asked employers yesterday to consider requiring that their employees have vaccines for Covid. And the county is taking its own advice and intends to impose the same requirement on its own 22,000 employees, County Executive Jeff Smith told the Post.
The county is working on ironing out the details with union groups and should have further details in about a week, Smith said.
On Thursday the county joined officials in San Francisco and Contra Costa counties to recommend that employers consider requiring employees to have Covid vaccinations.
Many counties around the Bay Area, including San Mateo and Santa Clara, are recommending that people wear masks when indoors given the rise in Covid cases. Officials from the three counties said they don't have plans, for now, to reissue a mask mandate or require vaccination for employees and expressed optimism that major employers would take steps to ensure their employees are vaccinated.
"I view this as one of our tools that we have not yet fully employed yet, so this certainly could be a step in the right direction," said Santa Clara County Deputy Health Officer Dr. George Han. "We'll need to see how the vaccination rates go, and how the pandemic goes and that will kind of determine what may need to happen in the future."
Exemptions
Employees not wishing to get vaccinated can apply for medical or religious accommodations. Roughly 80% of the county's workforce have said they are vaccinated, the remaining 20% may have been vaccinated but just declined to tell the county.
"We are very concerned about the health and welfare of our employees and our clients. With the increase in cases, particularly the Delta variant, we feel the obligation to try to assure safety to the greatest extent possible," Smith said.
A recent Post survey of local workplaces found that some higher education institutions and some health facilities are requiring vaccinations. But vaccination requirements could be embraced by businesses ranging from a local corner store to tech giants in the county, such as Google or Apple.
So far, both Stanford Health Care and Stanford University have said their employees and students must be vaccinated. Stanford Health Care is requiring all employees to be vaccinated by Aug. 15, to protect its patients and workers, according to spokeswoman Julie Greicius.
So far, El Camino Hospital in Mountain View and Sequoia Hospital in Redwood City are not requiring employees to be vaccinated.
Stanford Provost Persis Drell announced on April 22 that all students must be vaccinated to return to campus this fall. On May 5, Drell announced that faculty, staff and postdocs also need to get vaccinated before the fall semester.
Both Foothill-DeAnza and San Mateo County community college boards have required employees and students to have Covid vaccines before attending in-person classes.
95% of PAUSD employees vaccinated
So far, public K-12 school districts have not enacted vaccination requirements. Palo Alto Unified School District Superintendent Don Austin said yesterday that about 95% of district employees have indicated they are vaccinated but there is no current expectation that all employees are to be vaccinated.
In San Francisco, both the city and UCSF, the city's two largest employers, are requiring employees to be vaccinated. City employees will be required to get vaccinated when a vaccine gets full federal approval. Smith said yesterday that Santa Clara County employees will be required to get the vaccine even if it is still under emergency approval because the efficacy and safety of the vaccines have been well established. Smith added the final authorization of the vaccines is largely bureaucratic as no additional tests are required.
Litigation
Across the nation, there have been lawsuits against vaccination requirements, but at least two judges have ruled the requirements are legal.
Last month, a federal judge in Texas threw out a vaccination requirement challenge from 117 Houston hospital employees. Earlier this month, a federal judge in Indiana ruled that it can require its students and employees to get vaccinated after eight students sought to block the mandate.
Bay City News contributed to this report.