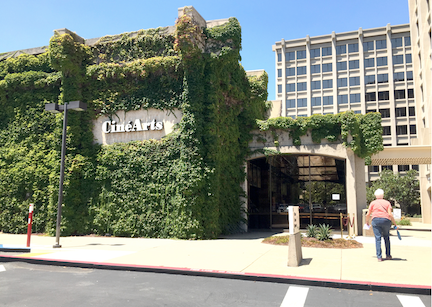 By the Daily Post staff
The twin CineArts theaters at the Palo Alto Square office complex at Page Mill Road and El Camino Real in Palo Alto will be closing permanently, a casualty of the Covid pandemic at a time when consumers are increasingly turning to streaming services to watch movies.
The theaters were closed during the pandemic and will not be reopening. The theaters' owner, CineMark of Plano, Texas, has literally returned the keys to the landlord, Hudson Pacific Properties.
The closure, which city officials learned about last month, comes five years after CineMark threatened to close the theaters because it couldn't afford tenant improvements the landlord was requiring. More than 2,500 residents signed a petition to keep the theaters open. With pressure from city hall, a new lease was negotiated that allowed the theaters to stay.
This time, CineMark says its decision is final.
"Century (Theatres, a sister company of CineArts) does not make this decision lightly, but given the unprecedented and tragic circumstances, Century has made this difficult decision," wrote Paul Ledbetter, vice president and real estate counsel to Century and Cinemark. "As you are aware, Century and the theater exhibition industry as a whole faced a particularly acute challenge stemming from the Covid-19 outbreak due to the various local, state and federal mandates specifically requiring the closure of public motion pictures."
"While such mandates were wise and prudent given the situation, it unfortunately resulted in economic hardships and unintended consequences for Century that has led to this decision," Ledbetter said in a letter to Hudson Pacific.
Cinemark is one of the nation's top three movie exhibitors with 523 locations and 4,630 screens.
Cinemark representatives didn't return phone calls about the closure, but the National Association of Theater Owners estimates that about 125 exhibitors have closed permanently due to the pandemic, according to the Wall Street Journal.
Cinemark plans to continue operating other theaters in the area such as Century Cinema 16 and Redwood City Downtown 20.