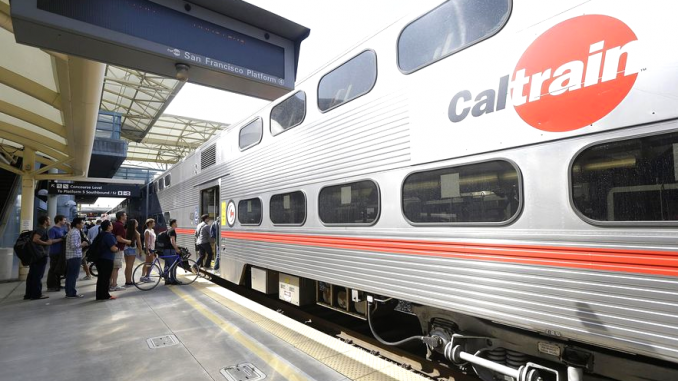 BY KYLE MARTIN
Daily Post Staff Writer
Caltrain announced yesterday (June 3) that its switch from diesel to electric locomotives will be delayed two years until "late 2024," and that the project is $330 million over budget.
News of the delay and cost overrun is a surprise since Caltrain officials didn't mention any problems last fall when they convinced voters to approve a new 1/8th cent sales tax to fund the railroad.
But Caltrain said it had to delay the expected date it would complete the project because of disagreements over the scope of work with its contractor, London-based Balfour Beatty, and unforeseen utility lines and rocks buried beneath the tracks.
San Mateo County Supervisor Dave Pine, who sits on Caltrain's board, told the Post yesterday the delay and cost increases are "disappointing, but not surprising for a project of this size and complexity."
The electrification of trains is supposed to increase the frequency of trains, and work was scheduled to be completed next year. But Pine said "there's always technical and contractual delays that come up in these major projects and it's unfortunately not uncommon in the transportation world."
The overuns will bring the cost of the project to $2.3 billion.
Former Foster City mayor James Lawrence told the Post yesterday that this is another example of "ineptitude and poor management" at Caltrain.
"Someone needs to take over the management of this and really run the organization," Lawrence said. "They've proven time and time again they can't manage public funds."
BART-Caltrain merger
He suggested that Caltrain merge with BART to handle train issues together or that Gov. Gavin Newsom do something to keep Caltrain on track with the project.
A poll commissioned by the business lobbying group Bay Area Council found that 83% of residents in the nine-county Bay Area favor merging Caltrain and BART.
Adina Levin, head of Friends of Caltrain, agreed with Lawrence, saying Caltrain and BART "should act like one system. And there's more than one way to make that happen."
"The main point here is that this is a skill set that our region and our nation isn't great at, and ought to improve," Levin added.
Redwood City Councilman Jeff Gee, a Caltrain board member, said this delay and price inflation was not something Caltrain could have known before voters last year approved Measure RR, which increased sales taxes for the next 30 years to generate an estimated $100 million per year for Caltrain.
San Francisco and Santa Clara county officials last year were leery about supporting the measure, saying San Mateo County had too much control over Caltrain. But after some concessions from San Mateo County over governance of the railroad, the measure went on the November ballot and passed with 69% of the vote. This was just before Caltrain and SamTrans head Jim Hartnett announced his resignation in December, later to be replaced on an interim basis by SamTrans Deputy CEO/GM Carter Mau and Chief Officer of Rail Michelle Bouchard.
Cost overrun spotted by feds
Gee also pointed out that the Federal Transportation Administration first told Caltrain about the increased cost in a report sent to the board last month, which is why the announcement of the delay didn't come out until yesterday. The feds are giving Caltrain a $647 million grant, approved by the Trump administration in 2017, to fund electrification. But that won't be enough to cover the increased costs, he said.
Of the additional $333 million, Gee said Caltrain can tap $161 million in its reserves and get another $52.4 million from the Covid relief American Rescue Plan. But Caltrain doesn't know where the rest of the money — $119.6 million — will come from.
"To a certain extent, we could have done more work, maybe. But you would never know in total," Gee said. And the pandemic, which dramatically dropped ridership, also couldn't be predicted, he said.
One reason for the delay is that there are hard rocks and utility lines underneath the tracks that Caltrain didn't know about before construction began.
But what the board did know is that Balfour Beatty disagreed with the scope and price of the project last year. The contractor actually first notified Caltrain about the possibility of increased costs about 10 to 12 months ago, Gee said.
"A contract disagreement during construction is not unusual. They actually happen quite often," Gee said. "Construction is one thing, but computer systems and software are a whole different thing."
Surprises underground
Caltrain board Chairwoman Dev Davis, representing San Jose, said the underground abnormalities were left in the ground before Caltrain took over the railroad in 1992 from Southern Pacific.
Davis said that electrification required the digging of holes for the poles that will support the overhead wiring. During the digging, workers discovered that utility lines were not in the places that had been marked, she said.
"I know many people like me are very much looking forward to the electrification of Caltrain for enhanced service and the improvement to our environment that electrification will bring," Davis said.