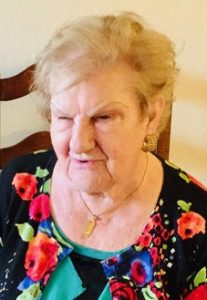 Maria (Marie) Paleologos passed after a short illness following a heart attack in December 2020. Maria, born January 17, 1927, in Eva Messinias Greece (Peloponnese) was the 3rd child of Charalambos and Smaragde Konstantopoulos. Her curiosity and intellect brought her on a journey to the United States as a young woman to attend college in Oakland. She quickly assimilated into her new home, new language and adapted to the challenges of school and her Bay Area residence.
Maria met her husband, Gust Paleologos, eloped and moved to Fresno, CA., to begin her life as a wife and eventually the mother of her four children, Nick, Anita, Harry and Dean. Her devotion to her children was the primary focus of her life. She provided guidance and patience to ensure that her children received the tools for their success later in life.
She continued this role as a single mother in Menlo Park, Mountain View and at her last residence in Palo Alto. She never shied away from challenges taking on her first job at Stanford University, followed by employment at various Peninsula firms…and lastly…. the San Mateo School District.
During this time she followed her passions for music, especially opera, and worked for many years as a Volunteer Usher at the Palo Alto Opera. She also savored the outdoors and was an active participant with the Sierra Club, was a long time/forever member of the European Health Spa and subsequent variations of the health facility. She was an active Bridge player and enjoyed visiting her family members and traveling with her children on many adventures to the Far East, Middle East, Europe her homeland, Greece, and many cruises.
Her life was an adventure….good times, tough times…but always filled with love and affection. Her children were her life and she leaves Nick Paleologos and his life partner Michael Scharlau of San Francisco and Palm Springs, her daughter Anita Yagjian and Mike Yagjian (deceased) of Pasadena, son Harry Paleologos and wife Daniella Dixon of Walnut Creek and Dean Paleologos and his wife Helen (deceased) of Fresno, CA.
Maria was predeceased by her parents, her older sister, Barbara, her older brother, Stavros, and is survived by her sister in Greece Agglaia Panagopoulos, brother George Konstantopoulos of Piedmont and his children Anastasia (Tassie), Harry Konstantopoulos, and his three children, Anna, Eresmia and George.
Family services will be private and Maria will be interred at the Mountain View Cemetery with her family members in Piedmont, California.
Her devotion to her children can be summarized with her last communication…."I love all my kids….may God bless them….Love…Mom"