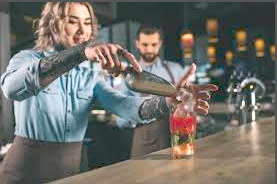 San Mateo County today, following a steep drop in Covid cases and deaths, moved into the state's Yellow Tier, allowing the county to reopen almost all businesses indoors with capacity limits.
The tier change will allow San Mateo County to reopen bars indoors at 25% capacity or 100 people, whichever is fewer, while expanding indoor capacities for businesses like restaurants and gyms.
"Moving to the yellow tier is a credit to everyone who has worn their masks to slow the spread and to the 76% of us here in San Mateo County who have rolled up their sleeves and gotten the vaccine," county Board of Supervisors President David Canepa said in a statement.
County Health Officer Dr. Scott Morrow also announced that he rescinded his June 17, 2020, health order that detailed local guidelines for social distancing and masking.
The county will now comply with guidance issued last week by the California Department of Public Health, which can be found here.
Over the last two weeks, the seven-day average of new cases in San Mateo County has decreased 34.9%. Newly reported deaths have decreased 75%.
San Mateo County is the second Bay Area county to move into the yellow tier after San Francisco did so last week.
It is also the first time San Mateo County has been in the yellow tier since the state unveiled its tiered, color-coded Blueprint for a Safer Economy reopening system last summer.
In addition to the 76.4% of county residents ages 16 and up who have received at least one vaccine dose as of Monday, 72.3% of eligible residents have been fully vaccinated, according to county data.
Much of the Bay Area remains in the Orange Tier while a handful of counties including Santa Clara were on the cusp of advancing to the yellow tier this week.
State officials have targeted June 15 to sunset the tiered reopening system and remove capacity restrictions, provided that vaccine supply remains ample and coronavirus-related hospitalizations remain low.
Public health guidelines compliant with the yellow tier will go into effect at 12:01 a.m. Wednesday, according to county officials.
Information on capacities at which businesses can open can be found here. — Bay City News