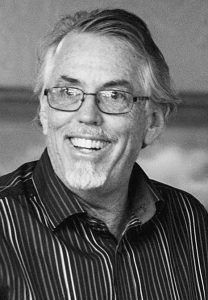 August 20, 1954 – April 11, 2021
Jonathan Pharazyn passed away unexpectedly after a tragic accident while riding his bicycle, April 11, 2021.
Born in San Francisco, Jonathan was the only child of Lucille and Philip Pharazyn, His early years were spent in the San Carlos hills and Honolulu. He was an avid surfer, loving the spirituality and physicality of ocean waves.
His family returned to the Bay Area, where he a graduated from Pittsburg High. He attended college at Reed College in Portland Oregon, UC Berkeley, and finished a BA in History and Spanish at the University of Illinois. It was in his high school years and college, when he developed a love of music, especially jazz and reggae. During the 1970's, Jonathan was very active in politics and social justice movements addressing racism and poverty in the Chicago area.
In the 1980's Jonathan returned to the Bay Area, raised 2 children, settling in Redwood City and then in Mountain View. Jonathan received Masters' degrees in School Administration and Teaching Education, with emphasis on bilingual education. He spent the next 35 years as an Educator, School Administrator, and served as president of district teachers' union. His bilingual skills afforded him the opportunity to address issues and hardships of English language learners and immigrant families. His passion for teaching continued in retirement as he served as a substitute teacher in local school districts.
In retirement, Jonathan became a passionate gardener, raising some 20 fruit trees and organic vegetables. Always drawn to the peace and beauty of nature, Jonathan was an enthusiastic participator in outdoor sports– hiking, kayaking, surfing, scuba diving, and biking. He traveled extensively throughout Hawaii, Europe, Mexico, and Central America. He was fiercely devoted to family and close friends and will be missed tremendously.
He is survived by his wife, Ruth Norris, children Lilia and Fabio (Rachel) Pharazyn, stepsons, Ben (Samantha) and Pat(Cassie) Graves, and 5 grandchildren. A celebration of life will occur once Covid restrictions are eased. Memorial donations may be made to KCSM Jazz radio station, Peninsula Open Space Trust, or charity of your choice.