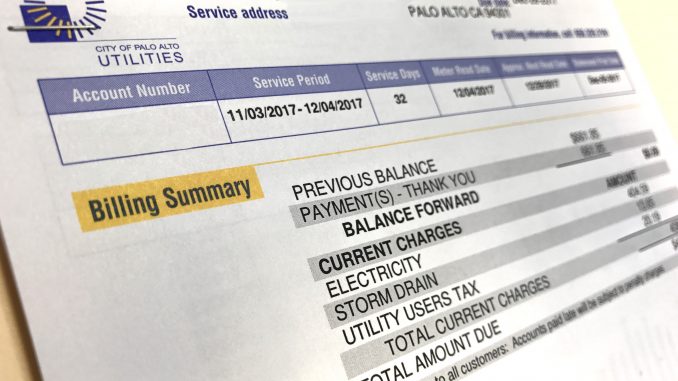 BY EMILY MIBACH
Daily Post Staff Writer
As the city of Palo Alto moves from natural gas to electric, some council members said last night (April 19) they're worried about whether the city's electrical grid can withstand the additional strain.
The city has experienced three power outages in three weeks, and last night Vice Mayor Pat Burt suggested it's time to put more money into the city's grid.
"We need to make sure we have a highly reliable system. We've seen recently that we have under-invested in that (system) in recent years," Burt said.
Burt mentioned potentially raising the city's electric rates to improve the city's grid. He said the city's electric rates are about 40% less than PG&E's rates. He said an average resident would likely be more inclined to pay 20-30% less than PG&E customers to have a more reliable system.
Nearly all of the council commented on the city's electrical grid during its review of its Sustainability and Climate Action Plan. The plan's goal is to reduce greenhouse gas emissions 80% below 1990 levels by 2030.
AECOM, a Los Angeles-based consultant hired by the city, found that emissions in 2019 were 38.2% below 1990 emissions, despite a population increase of 23.6% during the same time period.
Although the 38% is just under half of where the city hopes to be in nine years, city Sustainability Manager Christine Luong said the city has made the state's "A-List" of cities taking an aggressive look at climate change.
She said most cities in the Bay Area are at a 15-20% reduction in emissions.
The council didn't really discuss any of the individual ways city officials hope to get residents and businesses to stop using natural gas. But officials hope to reduce gasoline consumption by adding new biking and walking paths. They're also considering a ballot measure on whether the city should disconnect gas service to single-family homes. Another idea is to provide subsidies to residents or workers who drive electric vehicles.
The council instructed Mayor Tom DuBois to pick two council members that who would lead a an ad-hoc committee of local experts and activists to flesh out the city's plans.
The council also unanimously approved a laundry list of specific things it would like the ad hoc committee and city employees to work on in the near term, such as recommending ways to improve the reliability of the city's electric utility.
Councilwoman Alison Cormack suggested the group evaluate land-use and zoning changes with an eye toward reducing greenhouse gas emissions.
Some of the people who called into the council's Zoom meeting, including Rebecca Eisenberg, Dashiell Leeds and Olivia Musill, urged the council to look into having housing near bus routes and Caltrain so it is easier for workers to get to their jobs without cars.
ᐧ