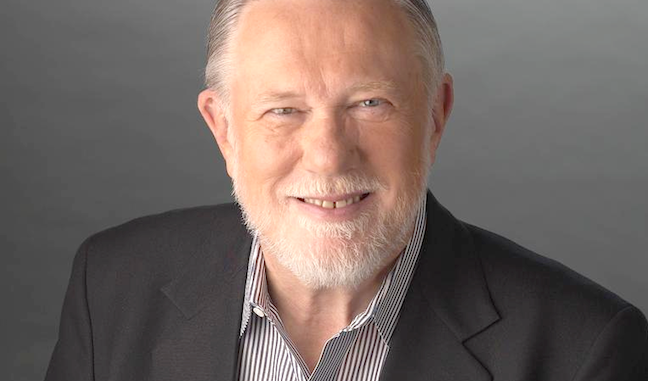 By the Daily Post staff
Charles M. "Chuck" Geschke, a Los Altos resident who co-founded Adobe Systems and later was kidnapped for four days until he was freed by the FBI, died on Friday at age 81.
"This is a huge loss for the entire Adobe community and the technology industry, for whom he has been a guide and hero for decades," said Adobe CEO Shantanu Narayen in an email to employees.
Geschke co-founded Adobe in 1982 with John Warnock, a colleague from Xerox. They collaborated on Adobe PostScript, a product that sparked the desktop publishing revolution.
Considered the priesthood
The son of a photo engraver, Geschke grew up in Cleveland, was educated in Catholic schools as a child, and spent three and a half years at a Jesuit seminary studying to become a priest, according to his Adobe biography. Ultimately deciding to forego the priesthood, he enrolled in Xavier University where he received a bachelor's degree in classics and a master's degree in mathematics. He earned a Ph.D. in computer science from Carnegie Mellon University.
Geschke married his wife, Nan, in 1964. The couple had three children. They lived in Los Altos since 1972.
Geschke began his career as a scientist and researcher in the Computer Sciences Laboratory of Xerox's Palo Alto Research Center, according to his biography. In 1980 he helped establish and became manager of Xerox's Imaging Sciences Laboratory at the same location. His duties centered on overseeing and conducting research activities in the areas of computer science, graphics, image processing, and optics.
Leaving Xerox and starting Adobe
In 1982 he and John Warnock, who conducted interactive graphics research for Xerox, became frustrated by the difficulty of moving their innovations and research beyond the laboratory and into production. The two decided to venture out on their own; they quit Xerox and created a new company, Adobe Systems, Inc., named after a creek that runs past their homes in Los Altos.
Their first product, PostScript, allowed for highly detailed, professional documents to be sent from a personal computer to a laser printer. Within two years, Geschke and Warnock reported Adobe revenues of $1.7 million.
In 1985, Apple Computer bought a 19% stake in Adobe and began packaging PostScript with its LaserWriter printer, helping Apple to become the leading computer for graphic design.
In 1986, Adobe partnered with Texas Instruments to incorporate PostScript applications into its laser printers. Soon thereafter, IBM licensed PostScript for its personal computers.
Adobe grew from 27 employees in 1984 to 3,000 by 2001, the company said. Adobe had an IPO in 1986.
Another advance by Geschke and Warnock was the Adobe Type Library, a collection of typefaces developed specifically for electronic application. Initially, the Type Library offered 300 unique typefaces, making it the largest collection available; the 2001 version of the Type Library (renamed as Font Folio) provided 2,750 font choices, according to Adobe.
Later, Adobe would acquire PageMaker and PhotoShop, allowing the company to sell a package of software to customers that would cover their graphic design needs.
When asked in 1995 by InformationWeek about any fear that Adobe was too heavily weighted toward the print industry, Geschke replied, "The move from paper-based to electronic documents doesn't worry us. People still want authoring tools." However, in the years ahead, Adobe would expand into the internet, creating tools for building websites and applications.
Kidnapping
In 1992, Geschke was kidnapped at gunpoint from the Adobe parking lot in Mountain View by two men as he arrived for work. He was freed when a man caught with $650,000 in ransom money led authorities to a bungalow hideout in Hollister, the New York Times reported.
The two kidnappers, Mouhannad Albukhari, 26, of San Jose, and Jack Sayeh, 25, of Campbell, were eventually sentenced to life terms in state prison.
Geschke served as co–chairman of the board and president of the company until 2000, when he retired as president. Geschke served as chairman of the board with Warnock from
September 1997 to January 2017, and member of the board until April 2020.
Awards and honors
In 1999, Geschke was inducted as a Fellow of the Association for Computing Machinery (ACM). In 2002, he was made a Fellow of the Computer History Museum. In 2006, Geschke, along with Warnock received the American Electronics Association's Medal of Achievement. In 2008 he received the Computer Entrepreneur Award from the IEEE Computer Society. He also won the 2008 National Medal of Technology and Innovation, awarded by President Obama. In 2010, the Marconi Society co-awarded Geschke and Warnock the Marconi Prize.
Geschke and his wife started a foundation that has been recognized for its philanthropic work. In 2012, the National Catholic Educational Association honored the couple with its St. Elizabeth Ann Seton award for its contributions to promote Catholic education. The foundation funded construction of the Geschke Learning Resource Center at the University of San Francisco.
Geschke served on the boards of the San Francisco Symphony, the National Leadership Roundtable on Church Management, the Commonwealth Club of California, the Egan Maritime Foundation, the Nantucket Boys and Girls Club and the computer science advisory board at Carnegie Mellon University.
"As much as his inventions changed the world, it is his focus on people, purpose and culture that has profoundly impacted each of us at Adobe," said Narayen, the Adobe CEO. "As he always said, Chuck wanted to create a company where he would want to work. He believed that good ideas come from everywhere in the company and that it's not only what we do but how we do it that matters most."
Geschke is survived by his wife Nancy ("Nan") Geschke and his three children.