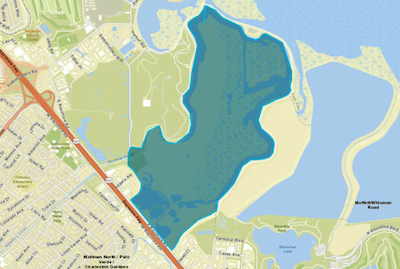 By the Daily Post staff
The Vector Control District says it will use a helicopter to spray for mosquitoes in the Baylands on Wednesday (March 24) starting at 7:30 a.m. and continuing for a few hours.
"These mosquito species tend to breed in seasonal wetlands and marshes, usually during spring," said Vector Control District Manager Nayer Zahiri. "This treatment will significantly help reduce the mosquito population by allowing us to treat those hard-to-reach areas that we would otherwise not able to reach by foot."
The goal is to stop the spread of Western Equine encephalitis and St. Louis encephalitis — three diseases that can be transmitted by mosquitoes.
The helicopter may make low-altitude passes over trails surrounding the treatment area, so the public is advised to avoid areas where the helicopter is operating. Signs will be posted at various locations around the treatment area to notify people about the treatment operation. The marsh trails are not opened to the public during treatment that is expected to last several hours.
The district says it is monitoring the development of mosquito larvae in the Baylands, and given the current conditions, there's a "high probability" that a significant number of mosquitoes will become adults in a few days if left untreated.
The vector district plans to spray a "naturally occurring" microbe and a mosquito-specific hormone, a treatment the county has been using safely and effectively since 1992, the district said in a statement.