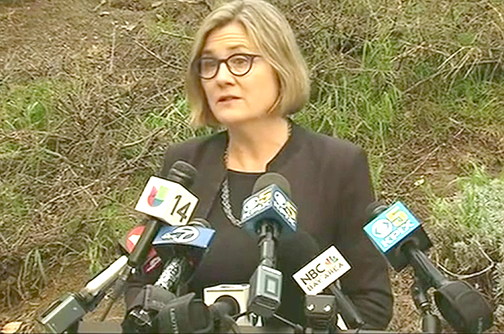 On Friday, Gov. Gavin Newsom loosened the rules for high school sports, allowing all outdoor sports to resume in counties in 27 of the state's 58 counties including Santa Clara and San Mateo.
But since Santa Clara County has been imposing more restrictive health orders than the state, there was some question about whether sports would resume despite the governor's order.
Today (Feb. 22), county Health Director Dr. Sara Cody said that she will allow multiple outdoor activities including youth sports and performing arts to resume beginning Friday (Feb. 26).
The county also plans to relax restrictions on multi-household outdoor gatherings, which were imposed to stop the spread of the virus.
The state and county will require testing for athletes in contact sports such as football and rugby.
Cody pivoted today and said there's a need to maintain mental and physical health. Previously that wasn't a priority for Cody and her colleagues in the county health department.
The decision comes as the region nears the anniversary of the first coronavirus-related stay-at-home order, which was only supposed to last three weeks.
"Children and adults alike need to participate in the many activities that support their mental, physical, and social wellp-being," Cody said in a statement. "We know that the state has made rapid changes to its rules on athletic activities. It is important that changes are consistent across the board."
The updated guidance on outdoor activities is expected to be posted to the county's coronavirus website, http://www.sccgov.org/coronavirus, in the coming days. — Bay City News