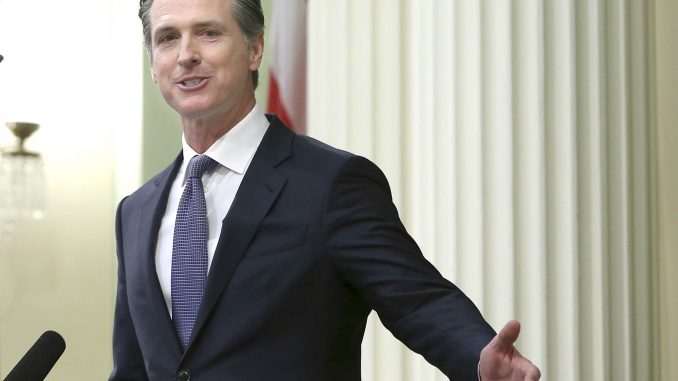 Gov. Gavin Newsom today (Jan. 25) lifted his coronavirus stay-at-home order, which means that restaurants can resume outdoor dining, barbershops and beauty salons can reopen, and sports can return with certain modifications.
He said his decision was based on projected intensive care unit populations over the next four weeks. In one week, the ICU capacity of Bay Area hospitals went from 23.4% to 6% as new cases dropped in every county.
Lifting the order will move most of the state back into the purple tier of the four-tiered reopening system.
That means outdoor dining can resume today, and barbershops and beauty salons can reopen, according to the Santa Clara County Department of Health, which issued this statement.
Santa Clara County's mandatory travel quarantine remains in place, requiring those who travel into the county from more than 150 miles away to isolate themselves for 10 days.
Professional and collegiate sports can resume, though teams may still have to postpone their return to the county because of the 10-day quarantine. Youth sports may resume subject to state guidelines.
Newsom originally implemented the stay-at-home order in December amid a wave of causes caused in part by social gatherings for Thanksgiving.
Regions of the state were placed under the stay-at-home order when their aggregated ICU bed availability fell below 15% of the region's total ICU bed capacity.
While the Bay Area's ICU availability shot up to 23.4% over the weekend, some regions like the San Joaquin Valley and Southern California still have bed availabilities under 2%.
"Seven weeks ago, our hospitals and front-line medical workers were stretched to their limits, but Californians heard the urgent message to stay home when possible and our surge after the December holidays did not overwhelm the health care system to the degree we had feared," state Health and Human Services Secretary Dr. Mark Ghaly said in a statement.
The move comes just days after Ghaly suggested the state had weathered the worst of the pandemic's winter surge and hospitalizations were on a downswing.
"We are seeing some reductions in transmission," Ghaly said last week during a briefing on the pandemic.
In addition to the stay-at-home order, the state-enforced curfew from 10 p.m. to 5 a.m. expires today, allowing non-essential, late-night travel to resume.
Republicans were quick to point out the state's rules regarding Covid have changed frequently.
"A new day, a new erratic Covid rule," said Kevin Faulconer, former mayor of San Diego who is expected to run as a Republican against Newsom. "Californians want to follow the science. Instead we are forced to follow a governor who decides on a whim the fate of millions of Californians while refusing to release the data behind his contradictory and arbitrary decisions.
"The most valuable resource in a crisis is trust, but that's in even shorter supply than vaccines under Gavin Newsom," said Faulconer. "How many lives have been ruined, jobs lost, students disenfranchised and businesses shuttered by his random and confusing decrees? This is absurd, and we deserve better."
Republicans said Newsom was relaxing the rules in response to political pressure and the threat of a recall. Republican organizers have until mid-March to gather 1.5 million signatures to force a recall vote against Newsom, who is halfway through his first term.
"This governor's decisions have never been based on science. Him re-opening our state is not an attempt to help working Californians, but rather an attempt to counter the recall movement. It's sad and pathetic," California Republican Party Chairwoman Jessica Millan Patterson tweeted.
Newsom called the suggestion that he was lifting the order due to political pressure "nonsense."
Santa Clara County Manager Jeff Smith said his county had no plans to impose stricter rules but criticized the state's decision.
"Essentially it's a decision being made politically that puts people's lives at risk, especially in Southern California," Smith told the Mercury News. — From staff and wire reports.