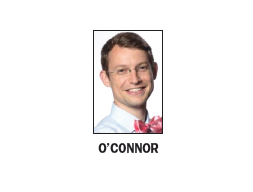 BY EMILY MIBACH
Daily Post Staff Writer
A Lucile Packard Children's Hospital pediatrician appeared in court yesterday (Wednesday, Feb. 17) on charges that he tried to meet with a 16-year-old girl for sex. During the hearing, a judge was told that the doctor admitted to police he was a sex addict.
Dr. Dylan O'Connor, 33, of Redwood City, is facing three felonies related to sending graphic photos, texts and videos to himself to a girl who said she was 16 before she reported him to the police, according to District Attorney Steve Wagstaffe. Police then set up a sting operation to arrest O'Connor, the DA said.
The girl he was messaging was actually 18 but found it disconcerting that O'Connor was willing to message someone so young, so she decided to lie about her age.
The girl called the police, who took over the girl's account and agreed to meet with O'Connor, the DA said. On Feb. 5, O'Connor showed up at the agreed-upon place on the 1800 block of El Camino Real with condoms and a blanket and was arrested.
O'Connor described himself as a sex addict to police investigators, Wagstaffe said.
O'Connor was charged yesterday on three felonies — attempted sex acts with a minor, meeting a minor
for lewd purposes and sending pornography to a minor. If found guilty on these charges, he will have to register as a sex offender for the rest of his life.
Stanford officials have previously said that O'Connor was placed on unpaid administrative leave after his arrest.
O'Connor is out of jail on $50,000 bail and will be back in court on April 21.