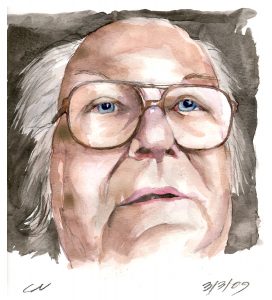 October 1925 – January 2021
Christopher Arnold passed away on January 18, 2021. The cause of death was COVID-19. A prominent architect and longtime resident of Palo Alto, he designed several houses in town as well as some of the dormitories at Stanford. He also designed the unique building on Pampas Drive which was a prototype for schools and which now houses the Stanford Federal Credit Union. A specialist in seismic retrofitting, he was a member of the committee that oversaw the re-design of the Bay Bridge after the Loma Prieta earthquake. In addition to his work as an earthquake expert, he taught at UC Berkeley's College of Environmental Design. An active member of the seismic community, he traveled extensively to earthquake sites, and served as president of Earthquake Engineering Research Institute (EERI) in 2000.
He was born on Christopher Columbus Day, 1925, in London, England, the youngest of 4 boys. They all attended St. Paul's school, on scholarship; during the Blitz, the school was evacuated to Broadmoor, the famous mental asylum, from which they would cycle home on weekends. He attended the Bartlett (school of architecture) – University College London.
In 1944, he volunteered for the RAF and was eventually sent to America to learn to fly at Falcon Field in Arizona. The war ended before he saw action but instilled in him a desire to move back to the United States. After completing his undergraduate studies at Cambridge, he came to Stanford on a Fulbright Scholarship, where he met his wife Jodie; they married in 1953 and have lived in Palo Alto ever since: this past December, they celebrated their 67th wedding anniversary. In 1965, he co-founded the architectural firm Business Systems Development with Ezra Ehrenkrantz to further the then-new principles of systems design.
Christopher had a life-long interest in fine art and studied painting with David Bomberg. He was an accomplished water-colorist, and his hand-drawn yearly Christmas card was prized by friends and family, as were his other paintings and drawings. The vacation home he designed near Watsonville is also a much-beloved memorial to his creativity and love of mid-century modern architecture.
Christopher is preceded in death by his three older brothers, Patrick, Hugh and Michael, and their spouses, and is survived by his wife, Jodie and children Vivien, Corry (Sharon), and Gina, grandchild Caitlin, as well as numerous nieces and nephews in London, the Bay Area and elsewhere. He will be greatly missed.