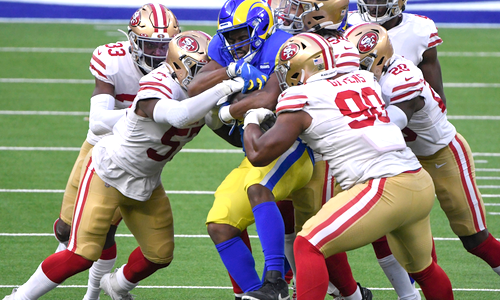 The 49ers will move to Arizona for the next three weeks after new coronavirus regulations put in place by officials in Santa Clara County forced the team to find a temporary new home.
The 49ers (5-6) announced they will host the Buffalo Bills next Monday night and Washington on Dec. 13 at State Farm Stadium, home of the Arizona Cardinals, because they won't be able to practice or play games at Levi's Stadium in Santa Clara for three weeks.
A person familiar with the team's plans told the Associated Press that a decision has been made to start practicing later this week in Arizona and remain based there until at least Dec. 21.
The team was forced to move because the rules imposed by Santa Clara County prohibit any practice or games for contact sports and will require the players to quarantine for 14 days any time they travel more than 150 miles.
At a news conference following Sunday's 23-20 victory over the Rams, coach Kyle Shanahan said the team was blindsided by the county's new rules that were announced by Health Officer Dr. Sara Cody at a news conference on Saturday.
"We've been working with them as a partner, just trying to figure it out," Shanahan said. "For us to be heading out here yesterday and the relationship we have with them, for all of our players and coaches and everyone on that plane and our wives to find that out while we're getting on a plane and no one to tell us. It was just extremely disappointing."
Niners CEO Jed York said today that the team had offers from San Diego and Arizona, but playing at the Cardinals' home proved to be the best option. He thanked Cardinals owner Michael Bidwell and officials in Arizona for their help in "these unprecedented times."
"The Cardinals organization, State Farm Stadium and League officials have been supportive and accommodating as we work through the many logistical issues involved in relocating NFL games," the 49ers said in a statement. — By the Associated Press