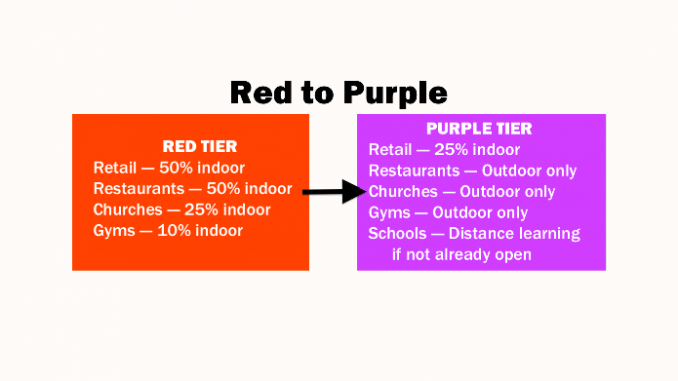 By the Daily Post staff
UPDATE, MONDAY, NOV. 16 — Santa Clara County is among 28 counties that Gov. Gavin Newsom today moved into the most restrictive of reopening tiers as the state attempts to extinguish its current rise in new coronavirus cases.
The move from the red to purple tiers, effective tomorrow, means no more indoor dining at restaurants. Gyms cannot operate indoors any longer. It also means that churches, which were allowed to hold services at 25% of capacity, will now have to hold gatherings outdoors. Shopping centers will go from 50% of capacity to 25% of capacity and no food courts.
In addition, the state has moved San Mateo County into the red tier, the second most-restrictive tier in the system. In that tier, indoor restaurant dining is allowed, but only at 25% capacity. Churches can have indoor services as long as capacity is limited to 25%.
According to Newsom, the state has seen its quickest increase in new cases statewide over the last 10 days since the pandemic began in earnest in March.
He said the state is "pulling the emergency brake" on its reopening plans.
"Every age group, every demographic, racial, ethnic (group) in every part of the state, we are seeing case rates increase and positivity rates (the percentage of those tested who are positive for Covid) increase as well," Newsom said during his briefing this afternoon on the pandemic.
"We are seeing community spread broadly," he added.
FRIDAY, NOV. 13 — Indoor restaurant dining will be banned in Santa Clara County starting on Tuesday (Nov. 17) because of a "sudden, rapid spike" in Covid-19 cases and an increase in hospitalizations.
Santa Clara County Health Officer Dr. Sara Cody announced Friday that the county will be moving from the orange zone to the more restrictive red zone on the Covid-19 restriction scale.
Other Bay Area counties are seeing increases as well, and they're expected to increase restrictions in coming days.
The county allowed indoor dining at restaurants to resume but at reduced capacity in mid-October.
But as case counts continue to rise, the risks associated with indoor dining, especially because patrons must take their masks off to eat, have increased significantly, Cody said.
Cody and public health experts in our region and elsewhere have concluded that it is necessary to close indoor dining to help contain the spread of the virus.
"We know that eating indoors without masks is a very high-risk activity, and as we close indoor dining we also strongly urge people not to eat or gather indoors with anyone outside their own household," Cody said. "We must come together as a community and act now to get the virus under control."
Gyms will also have to close when the county moves into the red tier on Tuesday (Nov. 17).
Health officials have been unable to control the spread of the virus after issuing their first lockdown order in mid-March. The order was supposed to last for three weeks to "flatten the curve" and free up space in hospitals for an expected surge in patients that never occurred.
Cody noted that wearing masks at all times, avoiding crowded environments, and moving as many activities as possible outdoors is critical to controlling the virus.
In indoor environments, the risk of droplet and aerosol transmission of COVID-19 can be only partially mitigated by wearing a mask.
Health officials are especially worried about people gathering indoors with Thanksgiving and Christmas coming up, and they're urging people who leave the Bay Area to quarantine themselves for 14 days when they return.