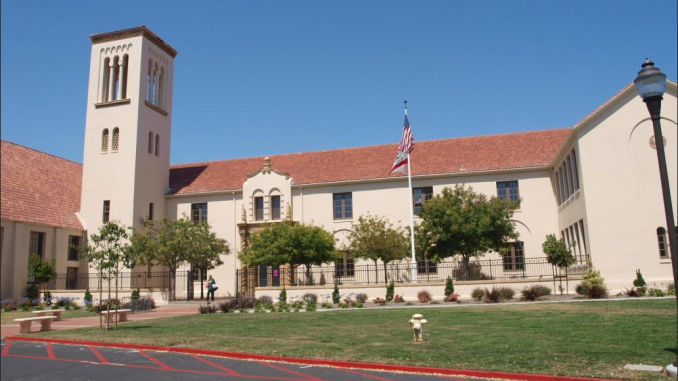 This story was originally printed Oct. 21 in the Daily Post. If you don't want to miss out on important local stories, pick up the Post in the morning at 1,000 mid-Peninsula locations.

By the Daily Post staff
Former Palo Alto High School robotics teacher Kathleen Krier is suing the school district, alleging she faced homophobia and other bullying behavior from parents while the district did nothing to help.
Superintendent Don Austin declined to comment on the lawsuit.
Krier resigned in 2018 after being placed on paid leave during an investigation into student complaints against her. Three robotics captains, two team parents and a boosters volunteer said at an October 2018 school board meeting that she harassed and bullied students.
Former team build captain Lawrence Chang said Krier made "a lot of direct insults toward me and the team in general about how we're giving her such a hard time."
Former robotics co-captain Bryan Yang said Krier had made the team feel "intimidated, scared and bullied," leaving them with a sense of anxiety when going to the robotics lab. Krier threatened to call security on Yang, and threatened to kick him off the team three times, said former co-captain Jennifer Xu.
Harassed over diversity push
Krier tells a different story in a lawsuit filed in August in Santa Clara County Superior Court.
The suit says when Krier was hired to work at Paly in August 2018, she was told by administrators that the lack of diversity on the robotics team was a problem that she needed to help fix.
The suit says the robotics team boosters helped fuel this lack of diversity by charging high club fees, requiring that meetings be held in the evenings making them inaccessible to kids relying on the bus and by exerting influence over who got to be a captain. Krier claims the boosters harassed her because she was trying to make the team more diverse.
Krier claims that during a meeting to introduce her to students, one of the booster officers referred to her as "him" and "he," which was offensive to Krier as a woman and a lesbian.
Krier said that on Aug. 15, 2018, she went to her office and found that her gay pride rainbow flag had been broken and put in the trash. She alleges that the boosters encouraged student complaints against her. The school district should have known that the boosters' conduct placed employees at risk of harassment, according to the complaint.
Krier wants at least $450,000 as well as attorney's fees. Besides resigning from her job, she said she incurred substantial expenses leaving her rent-controlled apartment in Berkeley and leasing an apartment in Palo Alto. The lawsuit says she suffered mentally because of her experience at the district.