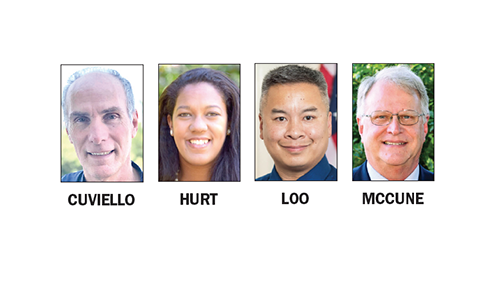 BY EMILY MIBACH
Daily Post Staff Writer
Fire protection is among the top priorities for the four people looking to claim two seats on the Belmont City Council because of a fire that broke out in San Juan Canyon last month.
Incumbent Davina Hurt and appointed incumbent Tom McCune are facing two newcomers, firefighter Ken Loo and environmentalist Pat Cuviello.
Loo, a captain with the Contra Costa County Fire Protection District, says that he wants to improve traffic and pedestrian safety if elected.
Loo, 42, also wants to work on a fire management program to ensure there aren't flammable plants and trees near "at-risk" properties.
Furthermore, Loo would like to work on streamlining the city's permitting process for new construction but also keep Belmont a family-friendly city.
Cuviello is a retired resident who started the group Friends of Water Dog Preserve, which works to protect the habitat at the park and limit trail erosion caused by mountain bikers.
He is married to Deniz Bolbol, who was a council candidate two years ago.
Cuviello, 60, says he is running to work on preserving local decision-making and open space.
If elected, his first priority will be to require speakers at council meetings to say where they live.
Hurt, 44, is completing her first term on council after being elected in 2015. Hurt says she is running for re-election to be a voice for all of Belmont's residents and neighborhoods. She says that she has taken on leadership roles in the county over the past five years in hopes of working on some of the regional issues that plague the area.
If re-elected, Hurt says her focus will be getting Belmont through the COVID-19 crisis, while also looking at ways to improve economic development and inform residents about wildfire prevention and preparedness.
McCune, 66, was appointed to the council last year after then-Councilman Doug Kim resigned. Before that, he was on the city's planning commission for five years and the city's finance committee.
McCune said he is running because he wants to make sure the town does not "backslide" after making years of progress in terms of financial stability, housing and other issues.
If elected, McCune says his first goal will be to make sure the city's budget is stable and adequate, given the economic downturn caused by the COVID-19 shutdown.
The city is facing less hotel and sales tax revenue, and McCune says uncertainties related to the budget need to be "watched like a hawk."