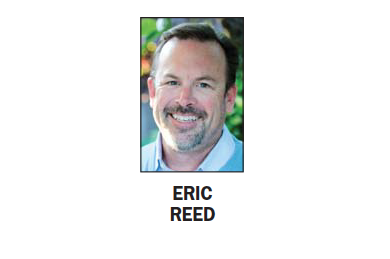 BY DAVE PRICE
Daily Post Editor
Eric Reed, a Belmont city councilman whose accomplishments included the opening of Davey Glen Park and the establishment of a veterans memorial in Twin Pines Park, has died at age 50 after a battle with prostate cancer.
Reed leaves behind his wife Laura and two sons, one in grade school and the other a high school sophomore.
"He was a voice of reason and wisdom on council," said his colleague, Mayor Charles Stone. "He always knew when to inject a little humor in the moment. He was so adept at making people feel heard even if he didn't share their perspective."
Reed, an executive at Genentech, served on the Planning Commission from 2008 to 2013. He ran for council in 2011 and lost by 11 votes. He ran again in 2013 and was the top vote-getter. He served as mayor in 2016.
Stone said Reed was one of the leaders of the effort to create the Belmont Village Specific Plan that coordinates development in the area around the intersection of Ralston Avenue and El Camino Real.
Reed's contributions on council also include the approval of the Crystal Springs Upland School, the opening of Davey Glen Park, and the creation of a veterans memorial in Twin Pines Park, according to Stone.
The inspiration for the veterans memorial came when Reed was attending a memorial at Golden Gate National Cemetery in San Francisco. A woman came up to him at the memorial and said she was the mother of Lars Sundell, a Belmont man who died in the Vietnam War.
"Eric was so touched by that conversation that he made it his mission to create that monument," Stone said. "Lots of people deserved credit, but Eric was the champion of it."
Reed was diagnosed with prostate cancer a couple of years ago, but nobody anticipated that it would be so aggressive, Stone said. Reed was on home hospice for the past two weeks before he died Friday evening, Stone said.
Council hasn't discussed how it will fill Reed's vacancy on the five-member body, but the last vacancy was filled by an appointment. His term expires in November 2018.
"This leaves a tremendous hole not just in his family but on the city council," the mayor said. "Eric will never be replaced but we will go on and do our best to continue and protect his legacy."