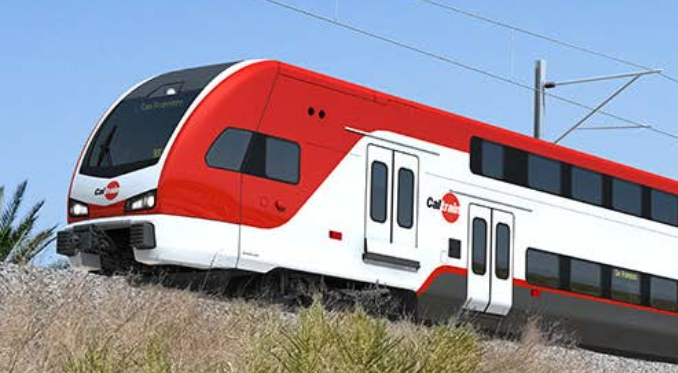 BY JEN NOWELL
Daily Post Correspondent
Once Caltrain electrifies its tracks, transit officials estimate it could cost at least $208 million a year to operate the commuter railroad — a 33% increase over last year's operating budget of $155.7 million.
Caltrain officials are considering two ideas for how many trains they would run each day. But more trains means higher operating costs.
Under a "baseline" plan, Caltrain would run 116 trains per day, at a cost of $208 million per year to operate, said Sebastian Petty, Caltrain's director of policy development. And a more enhanced service plan involves running 168 trains per day, which is estimated to cost $245 million per year to operate, he said.
These cost estimates for the 2022-2023 fiscal year came about as part of the business plan that was approved last year, said Caltrain spokesman Dan Lieberman. This plan outlines the direction and growth for the future of the railway line.
By 2040, Caltrain officials are anticipating a 300% increase in ridership demand.
Prior to COVID-19, Caltrain was running 92 trains per weekday. This number dropped to 42 trains earlier this year due to the coronavirus pandemic as ridership fell by 97.7%, according to Caltrain officials.
The transit agency's average weekday ridership dropped from 67,728 in April 2019 to 1,547 in April 2020, according to a Caltrain report. By June 2020, ridership was up to 2,884, but this is still a drop from the 72,370 Caltrain had in June 2019.
(Note that Caltrain counts riders when they board in the morning and again when they depart in the afternoon. If Caltrain says its daily ridership is 72,370, that means 36,185 people used the train that day.)
This summer Caltrain saw ridership come back slightly, but it has since stabilized, with ridership still down by about 95%, Petty said.
The number of trains running each weekday increased to 70 in June as people returned to work. This 70-train schedule is expected to continue through at least June 30, 2021.
Petty said increased operating costs with electrification is driven by running more trains. Electrified trains are more efficient than the current diesel trains, but they require a bigger system financially, he said.
Fares are expected to "substantially offset" the costs for the new system as well as grants, Petty said. Prior to COVID-19, fares offset operating costs by about 70%, he said.
Proposed tax will fund operations
Caltrain is also hoping the passage of a one-eighth-cent sales tax appearing on the Nov. 3 ballot will help sustain Caltrain's system and basic operations, Petty said.
The 30-year tax, Measure RR, is expected to bring in $108 million annually.
This tax would also replace the funds that Caltrain's three partners — SamTrans, VTA, and the city and county of San Francisco — contribute annually for operations, relieving them of their obligation, Petty said.
For the fiscal year ending June 30, the three agencies contributed $29.9 million, according to Caltrain officials.
While this tax would relieve the three agencies of their contributions on the operating side, Petty said they would still be liable for their contributions on the capital side, which last fiscal year saw them each giving $7.5 million. In the current fiscal year beginning July 1, it is anticipated that each agency will give $6 million, according to Caltrain documents.
An extra $68 million a year to spend
Petty said any remaining money left over from sales tax revenues will go to further enhance the system. With up to $40 million collected each year going to off-set the member agencies' operating contributions, this leaves up to $68 million for other needs and projects.
This could include expanding from six trains to eight trains per hour, major terminal or station improvements, and grade separations which separate the trains from the tracks, he said.
These improvements and projects, which are expected to cost in the billions, would be a multi-agency and multi-decade endeavor, Petty said.
$10 billion in grade separations
Grade separations — building bridges to put the trains under or over intersecting streets — are expected to cost upwards of $10 billion, Petty said. There will need to be significant funding from other sources, he said.
However, the first focus for sales tax revenue if it passes in November would be sustaining the Caltrain system, Petty said.
"Without a dedicated revenue source that stabilizes our financial situation, the benefits outlined in the business plan cannot be delivered," Lieberman said, when asked what would happen if the sales tax doesn't pass on Nov. 3.
If the sales tax measure passes, Lieberman said it would go into effect July 1, 2021, with Caltrain starting to receive funds in September.
No layoffs
Since the start of the COVID-19 pandemic, Caltrain has not had any layoffs, Petty said. The transit agency has been subsisting on federal bailout funding through the Coronavirus Aid, Relief, and Economic Security Act, or CARES Act, he said.
Caltrain received $49 million in federal funding.
This funding aimed to keep public employees working, and to keep transit running to get essential employees to work, Petty said. So there have been no layoffs at Caltrain, he said.
But transit officials anticipate these funds will run out soon, and without additional funding the transit agency will need to discuss potential layoffs, Petty said.
Lieberman said the funds through the CARES Act aren't enough to last through the end of the year.
Tax almost didn't make the ballot
Caltrain's sales tax measure, Measure RR, barely made the Aug. 7 deadline for ballot measures.
Officials from Santa Clara and San Francisco counties have raised concerns over the fact that SamTrans, San Mateo County's transit agency, runs Caltrain. SamTrans board even hires and fires Caltrain's CEO.
San Francisco Supervisors Shamann Walton and Aaron Peskin initially declined to have their supervisors vote on whether to put the measure on the ballot, but a side deal was made between the three counties that will take a look at changes in how Caltrain is governed and restrict the use of the money raised by the sales tax.