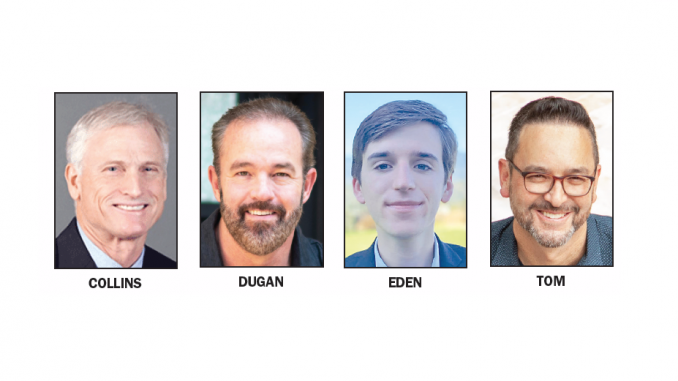 BY EMILY MIBACH
Daily Post Staff Writer
With San Carlos Councilman Mark Olbert deciding not to seek re-election, at least one new face will be joining the City Council, where two seats are up for grabs this election.
Incumbent Ron Collins is seeking a third term on the council, and if re-elected, will be the only council member not in their first term.
Also running are planning commissioner John Dugan, David Tom, who is a senior director at Apple, and student JT Eden.
Focused on affordable housing
Collins, 70, who is the current mayor, wants to continue to work on bringing affordable housing to the city, keeping the city's small-town feeling and reducing the town's risk of wildfires.
Collins says his highlights on council include helping to approve housing and commercial projects in town, and working to close two blocks of Laurel Street as well as street parking in other parts of town to let restaurants and other businesses operate outside. That program, Collins says, has likely saved many of the restaurants downtown from having to close for good.
If re-elected, Collins says he would like to focus on wildfire preparedness, including making sure residents know their evacuation routes and getting some early warning systems in place.
Army veteran wants collaboration
Dugan, 51, is the chief operating officer at Denteractive, a health tech company. He has a law degree from Stanford and attended West Point before serving in the Army and rising to the rank of captain.
Dugan says he is running for council because between COVID-19 and fires, council members need to act collaboratively and decisively, which is something he can bring to the table.
If elected, Dugan says his priorities will include disaster preparedness, decreasing traffic and improving walkability in town and working to see that more housing and child care are included in developments.
Dugan says he disagreed with the council's approval of what's been dubbed as the Meridian 25 project on Industrial Road three years ago, saying that the city did not get enough community benefits because officials did not push back on the developer enough, which is why he supports the creation of a plan for development on the city's east side.
Student sees uncertainty
Eden, 18, attended Carlmont High School and Canada College, where he served on the student senate. He has deferred his enrollment at UC-Davis for a year to run for council. Eden says he is running because he sees a lot of uncertainty in the future, especially when it comes to climate change, economic opportunity and housing affordability, and wants to create a better future for San Carlos.
Eden says his priorities if elected would include pushing for a closer relationship between the council and the city's youth advisory council. He wants to create a committee that will bring in leaders and residents from "underserved" communities. Eden also lists adding housing at all levels to the city as one of his priorities.
When asked if there was a recent decision council made that he disagreed with, Eden said that he thinks the council on Monday should have set aside funds out of its budget reserve for a cost-of-living wage increase for city employees and further study development on the city's east side.
Apple exec a 'different voice'
Tom, 50, is a senior director of development and strategy at Apple. He says the council ought to be a place where all perspectives are heard. He says that with Collins, the current mayor, running and Dugan, a planning commissioner who has the endorsements of the current council, he is running "to bring a different voice to City Hall."
His priorities include having developers pay their equal share and provide community benefits. Tom also says single-family homes should not be threatened by letting the state override local control, so he wants to see the city look at zoning for affordable housing on the east side, and to experiment with different types of zoning to allow for live-work and co-living spaces.
Tom says additional thought should have been put into the council's 2018 decision to fund $11 million of the $30 million worth of traffic improvements to be done at the Highway 101 and Holly Street interchange. He said that $11 million is a lot of money and instead of putting cars first, the council ought to think about what would make the city's neighborhoods better, such as creating bike lanes and pedestrian paths.