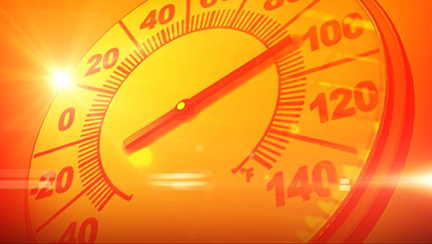 By the Daily Post staff
The high this afternoon was 106 degrees in Palo Alto at 3:47 p.m. That's 10 degrees higher than the record of 96 set in 1983. The average high temperature on this date is 80.
Sunday's high was 102, also a record.
The National Weather Service temperature readings for Palo Alto come from the thermometer at the east end of Embarcadero Road at the airport.
The cooling trend should start tomorrow, if you call highs in the 80s and 90s cool. The highs this week are forecast to be:
Tuesday — 95
Wednesday — 87
Thursday — 83
Friday — 81
Saturday — 82
Sunday — 79
The National Weather Service has issued a Red Flag Warning through Wednesday morning due to possible wind and other weather conditions. With new and existing wildfires in the region and throughout the state, poor air quality will continue.
The city of Palo Alto has opened a cooling center at Mitchell Park Community Center, 3700 Middlefield Road, El Palo Alto Room, open today through Friday from 10 a.m.-6 p.m.