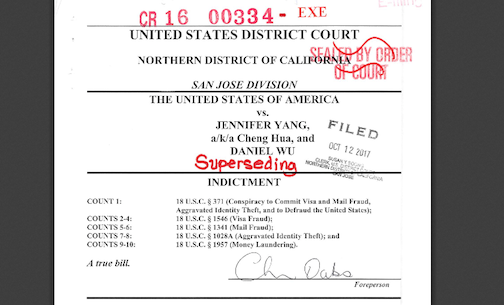 By the Daily Post staff
A Palo Alto attorney and her business partner have been sentenced to prison after they were convicted in a scheme to help foreigners obtain green cards for permanent residency in exchange for job-creating investments in the U.S.
U.S. District Judge Lucy Koh sentenced attorney Jennifer Yang, 52, to three years and 10 months in prison while her business partner, Daniel Wu, 56, of Las Vegas, received a two-year sentence, prosecutors said today.
Yang and Wu were convicted of charges that they created fake employees for seven investors so that they could obtain green cards under the EB-5 visa program.
The EB-5 program represents a fast-lane for foreigners who want green cards. Normally, the cards can take a decade to obtain through sponsorship from an American employer or relative. But under the EB-5 program, foreigners and their immediate families are eligible for a green card if they invest $500,000 in a development project in an area of high unemployment that creates at least 10 jobs. Participation can result in a green card in less than a year in some instances.
Instead of creating jobs, Yang and Wu diverted the investors' money for personal expenditures such as the purchase of cars, stays in luxury hotels, college tuition for a family member, and the cash purchase of a $2.5 million home for Yang and her family, prosecutors said.
The Los Angeles Times has reported that wealthy Chinese, who are eager for a foothold in the United States, account for most of EB-5 participants. They are often driven by concerns about long-term economic and political stability at home. Return on investment is secondary for many Chinese, who tend to focus on the opportunity to enroll their children in state colleges and eventually gain employment in the United States, experts say.
According to the Justice Department, Yang is a licensed attorney in the District of Columbia, the founder of Capital Law Group and she held herself out as a specialist for those interested in applying for EB-5 visa benefits. Wu is a resident of Las Vegas and previously of San Mateo, the indictment says. The couple were married in 1993 and lived as husband and wife until 1998, according to the indictment.
In addition to the prison terms, Judge Koh ordered the pair to pay $5.9 million in restitution and serve three years of supervised probation after they get out of prison.