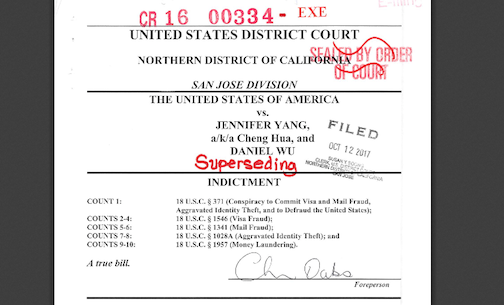 Correction: A photograph accompanying this article previously was of a different Jennifer Yang, also an attorney, who is not the defendant in this case.
BY DAVE PRICE
Daily Post Editor
A Palo Alto attorney and her business partner have been indicted for defrauding a program that enables foreigners to obtain green cards for permanent residency in exchange for job-creating investments in the U.S., the Justice Department said today (Oct. 19).
Attorney Jennifer Yang, 50, and partner Daniel Wu, 54, are accused of creating fake employees for seven investors so that they could obtain green cards under the EB-5 visa program.
They appeared before Magistrate Judge Nathanael Cousins yesterday, pleaded innocent and were each released on $500,000 bond.
Under the EB-5 program, foreigners and their immediate families are eligible for a green card if they invest $500,000 in a development project in an area of high unemployment that creates at least 10 jobs. Participation can result in a green card in less than a year in some instances. The cards can normally take a decade to obtain through sponsorship from an American employer or relative, The New York Times said in an April 5 story.
The Times reported that wealthy Chinese, who are eager for a foothold in the United States, account for most of EB-5 participants. They are often driven by concerns about long-term economic and political stability at home. Return on investment is secondary for many Chinese, who tend to focus on the opportunity to enroll their children in state colleges and eventually gain employment in the United States, experts say.
Yang, whose office is at 2225 E. Bayshore Road, and Wu are charged with filing EB-5 visa petitions for at least seven foreign investors who paid a combined $4 million for the stated purpose of investing into a commercial enterprise.
"Instead of making legitimate investments that created real jobs, the superseding indictment alleges the defendants created and submitted fraudulent records to deceive the government into issuing benefits on the basis of fake employees," a statement from the Justice Department said. "In at least some cases, the information about the bogus employees was created using the personal identifying information of third-parties, without the third-party individuals' knowledge."
Yang and Wu are also accused of creating documents that claimed the money would go for investments when it actually went into their own pockets, the indictment says.
"In this way," the Justice Department claims, the "defendants obtained benefits for clients based on jobs and businesses that did not, in fact, exist."
According to the Justice Department, Yang is a licensed attorney in the District of Columbia, the founder of Capital Law Group and she held herself out as a specialist for those interested in applying for EB-5 visa benefits. Wu is a resident of Las Vegas and previously in San Mateo, the indictment says. The couple were married in 1993 and lived as husband and wife until 1998, according to the indictment.
Charges against the pair include visa fraud, mail fraud, aggravated identity theft, defrauding the federal government and money laundering.