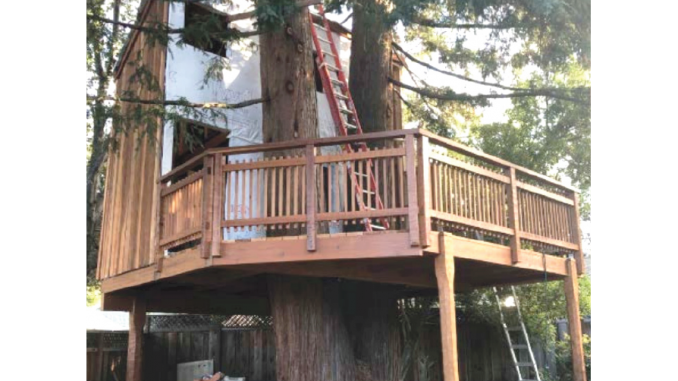 BY SARA TABIN
Daily Post Staff Writer
A Los Altos family has run into trouble because the city says their kids' tree house counts as an accessory unit, which makes it subject to city height regulations.
Katie and Rich Heley, of 714 Arroyo Road, are appealing the city's decision to reclassify what they say is a playhouse for their sons.
The two-story wooden tree house is nestled within two redwoods in the couple's backyard. It has a 105-square-foot deck and 210 square feet of enclosed space. It is also 24 feet tall including the wooden legs that support it.
They began building it in 2018. The city forced the couple to stop work on the tree house, which was almost done, later that year. But dispute lingers on.
The city's community development director, Jon Biggs, said in a memo to city council that the structure is an "accessory unit," not a playhouse, because of its size. If it is classified as an accessory unit, it is too large under city standards because the height limit for accessory units is 12 feet.
The Heleys say that when they reached out to the city about the project before starting construction they were told that there are no codes regulating tree houses.
"As our case is not unique — we believe that we are one of hundreds of existing and future tree houses in this city — it is imperative that vagueness regarding tree house construction be eliminated," said Katie Heley in a letter to the city council.
The couple said they have already lost two years because of complaints from angry neighbors and red tape from the city.
The confusion over the tree house has become an inter-city dispute.
Eric Schmidt, a Mountain View resident on Marilyn Drive near the Heley property, sent a letter to his city council asking them to take action against the treehouse. Schmidt said play structures should be child scale, not huge. He said the treehouse is taller than his home.
Keith and Kirsten Mello, Los Altos residents and neighbors of the Heleys on Arroyo Road, said the Heleys sought feed back on the tree house throughout its construction. They said it is a wonderful place for the Heley boys to unplug and spend time with their friends.
City council will hear the Heleys' appeal on Tuesday (Aug. 25).
Accessory dwelling units, also known as granny units, are controversial in Los Altos. The state has passed laws to make them easier to add because of the housing shortage, but some residents have said granny units encourage more traffic in neighborhoods and make residential lots too dense.