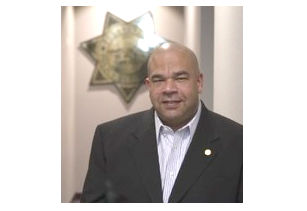 BY EMILY MIBACH
Daily Post Staff Writer
Menlo Park's new interim police chief is Pleasanton's former top cop, David Spiller, City Manager Starla Jerome-Robinson announced today.
Today is Chief Dave Bertini's last day. He unexpectedly announced his retirement on June 18 minutes after a town hall meeting where residents criticized his department over the treatment of ethnic minorities.
Bertini said it was clear that the council no longer trusts him and the city needs a fresh start that doesn't involve him.
Spiller will begin tomorrow, Jerome-Robinson said.
"Chief Spiller has led a distinguished law enforcement career and is known for cultivating a spirit of cooperation and community building between his officers and residents. I'm fully confident in Chief Spiller's ability to lead the department professionally and with the utmost integrity, transparency and commitment through this time of transition," Jerome-Robinson said in a statement.
Spiller retired from Pleasanton in November after serving as the city's chief for eight years. He had worked for Pleasanton for eight years before his promotion. He also previously worked at San Diego and Mountian View's police departments.
Since retiring, Spiller has been working with the California Department of Corrections and Rehabilitation's Office of Internal Affairs as a member of its Deadly Force Review Board.
He is also an instructor at Las Positas College in Livermore and sits on a criminal justice board at the University of San Francisco.
"I have spent my entire adult life in public service and I look forward to continuing to serve. I look forward to lending my experience to the organization and working with the Police Department staff, city staff, City Council and the entire Menlo Park community," Spiller said.
Spiller has an associate's degree in administration of justice from De Anza College, a bachelor's degree in organizational behavior from the University of San Francisco and a master's degree in public sector leadership from Saint Mary's College.
The city hasn't disclosed what Spiller will be paid.