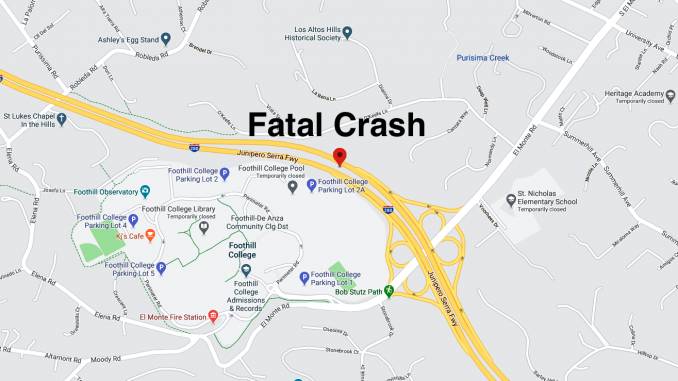 TODAY — The man who died in a solo-vehicle crash on southbound Interstate 280 in Los Altos Hills on Saturday was identified today by the Santa Clara County medical examiner's office as 60-year-old San Jose resident
Kenneth Smith.
SUNDAY — A 50-year-old man was killed Saturday evening in a solo vehicle crash on Interstate 280, north of El Monte Road near Foothill College in Los Altos Hills, the Redwood City unit of the California Highway Patrol said.
Prior to the crash, a caller to 911 reported that a black 2009 Lexus sedan had been seen traveling at over 100 mph.
Investigators said that the driver of the Lexus appeared to lose control for reasons not determined, and veered off the road.
"The Lexus traveled up a dirt embankment on the west side of the interstate and then down into a ravine striking several trees and overturning possibly more than once," the CHP said in a statement.
The driver, who wasn't wearing seat belts, died as a result of the crash.
It is unknown if drugs and/or alcohol were a factor in the crash.
The crash was reported at 5:40 p.m., and the No. 4 lane of the highway was closed until 8:45 p.m. for investigation and cleanup of the scene.
Identification of the driver is pending notification of the next of kin by the medical examiner's office. However, the CHP said he was a San Jose resident.
The incident is still under investigation and witnesses are encouraged to contact Officer Oscar Landell at (650) 369-6261. — Bay City News