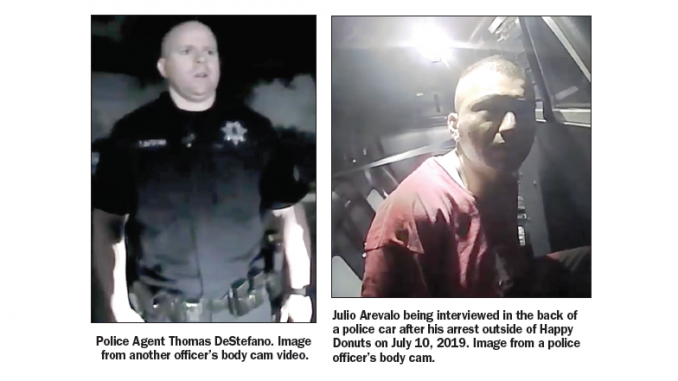 BY SARA TABIN
Daily Post Staff Writer
Santa Clara County District Attorney Jeff Rosen won't charge Palo Alto Police Agent Thomas DeStefano for a violent arrest that shattered the bones around a man's eye, caused a traumatic brain injury and spurred a $10 million lawsuit.
DeStefano threw Julio Arevalo, 24, of Palo Alto, to the ground face-first in an incident at 2 a.m. last July 10 at Happy Donuts, 3916 El Camino Real, that was recorded on a  security camera and DeStefano's body-camera.
DeStefano told police investigators that he suspected Arevalo of dealing drugs, but it turned out Arevalo wasn't in possession of any drugs. Arevalo was booked at the main jail in San Jose but never charged.
Arevalo filed a $10 million lawsuit against Palo Alto in June alleging excessive use of force, unlawful arrest and that DeStefano denied him medical care and lied in his report about the incident.
DA spokesman Sean Webby said today (July 13) his office decided there is insufficient evidence to prove DeStefano used illegal force to arrest Arevalo.
"The officer initially articulated lawful reasons to detain Mr. Arevalo, and Mr. Arevalo physically resisted the officer during the investigation," Webby said. "Though it is unfortunate Mr. Arevalo suffered significant injuries resulting from the struggle with Agent DeStefano, the evidence falls short of proving the officer engaged in criminal conduct before, during or after the arrest."
The DA's office previously decided not to prosecute DeStefano for an off-duty 2017 drunken hit-and-run in San Jose.
San Jose officers were called to a condo complex where a car was damaged. DeStefano originally lied to the victim about causing the crash, but was identified by a witness as the driver, according to the report. He also allegedly lied to the investigating officers.
Rosen's office allowed DeStefano to plead guilty to an infraction, which is the same as a parking ticket, and the misdemeanor hit-and-run was dropped. Had DeStefano been found guilty of the misdemeanor, he would have been out of a job.