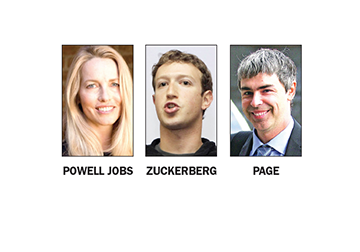 BY SARA TABIN
Daily Post Staff Writer
Mark Zuckerberg, Larry Page, Laurene Powell Jobs, Tim Cook and Richard Peery will have to start paying a wealth tax under a measure proposed for the November ballot in Palo Alto.
Kevin Creaven wants the city to levy a 2% tax on everyone worth more than $50 million and a 3% tax on everyone worth more than $1 billion. He wants the money to be redistributed so every resident gets $2,500.
Creaven is in the early stages of getting his initiative on the ballot. He paid for a legal notice in the Post last week that explained his measure. He said he plans to start circulating petitions to get signatures this week. He needs 2,392 valid signatures of registered Palo Alto voters, according to City Clerk Beth Minor.
An engineer by trade, Creaven moved to Palo Alto from San Diego this month for the wealth tax. He is also pushing for an increased tax on non-electric cars that cost more than $50,000.
Creaven said both taxes have been on his mind for a long time. He said the money from the wealth tax could be especially helpful amid COVID-19 shutdowns.
"When you look at history textbooks, societies with runaway wealth inequality, they start collapsing," he said.
He said the idea has been suggested by politicians but he doesn't expect Congress to pass a wealth tax anytime soon.
"We can take advantage of the fact that we live in a direct democracy… and do it ourselves," he said.
Creaven said he was going to try the wealth tax in San Diego but decided it would be easier to pass in Palo Alto. He thinks it will have a meaningful impact here because of local wealth disparities.
Forbes says the billionaires who live in Palo Alto include Facebook CEO Mark Zuckerberg ($54.7 billion net worth), Google co-founder Larry Page ($50.9 billion), Steve Jobs' widow Laurene Powell Jobs ($16.4 billion), Apple CEO Tim Cook ($1.3 billion) and developer Richard Peery ($1.1 billion).