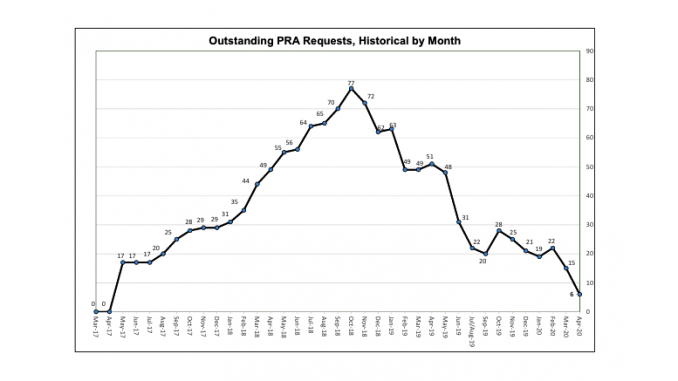 BY SARA TABIN
Daily Post Staff Writer
Palo Alto school board has settled a lawsuit with a resident who sued claiming the district violated the California Public Records Act by withholding public documents.
In October, Matthew McClain filed a records request for the district's Measure of Academic Performance scores for elementary and middle school students from 2010 to 2019.
He also asked for a "demographic analysis" of the test scores.
In addition, McClain requested contracts between the district and the Northwest Evaluation Association, which publishes the MAP test.
McClain received no response to his request within 10 days, which is the legal deadline for public agencies to respond.
McClain said Amanda Bark, executive assistant to the district's General Counsel Komey Vishakan, told him on Oct. 14 that she asked the district's research department for the information.
On Oct. 28, McClain learned that the district closed his request and were no longer working on it, and he tried to find out why.
Bark said that the district does not aggregate the test results and does not track or report on the test scores of student subgroups.
McClain filed an additional public records request for MAP test reports on Nov. 19, and the district did not respond with the records he requested, according to a page on the district website that charts public record requests.
McClain emailed Superintendent Don Austin on Dec. 5, who replied that there was "no public benefit" to his requests, according to McClain's lawsuit.
McClain asked in the lawsuit that the district fulfill his records requests and pay his attorney's fees.
Before his suit went before a judge, the school board voted 5-0 on May 12 meeting to settle with McClain for $9,964.
The school district has had a history of delaying public records requests despite state law, though the number of outstanding requests has dropped sharply in the past 18 months.
The number of outstanding requests peaked in October 2018 at 77. By this April, the number had fallen to six, according to a chart Vishakan submitted to the school board.