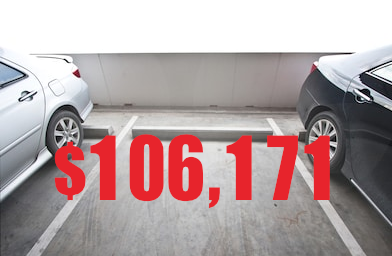 BY SARA TABIN
Daily Post Staff Writer
Palo Alto City Council tonight (May 11) rejected City Manager Ed Shikada's advice by extending the city's ban on downtown developers paying cash to get out of providing the required amount of parking in new buildings.
Developers who want to put fewer parking spaces in their buildings than required can pay an "in lieu" fee to a parking fund run by the city. Currently, that fee is $106,171 per parking spot. The money from those fees finances parking structures. Last April the city put a temporary ban on allowing commercial projects to pay the fees and get out of building parking.
The ban expired this month. City Manager Ed Shikada had advised council not to reinstate the ban since no one applied to build offices last year and since the COVID-19 crisis might defer office construction. The city still has a 55,000-square-foot cap on the amount of office space it will allow to be built each year.
Planning Director Jonathan Lait said the city has gotten anecdotal information that some property owners have been waiting out the ban before applying to build.
Anti-development Councilwoman Lydia Koa pitched a fit at the proposal to let the ban die. She said the city shouldn't use the current shelter-in-place order as a pretext to push unpopular decisions through. She pointed out that the ban was supposed to be analyzed by the city's Planning and Transportation Committee before it expired.
Lait said the issue is coming to council now because the year-long ban is about to expire, not because of COVID-19.
Several residents spoke out against letting the ban expire.
Nielson Buchanan, a leader in the effort to bring permit parking to neighborhoods, said Lait's statement that developers have paused projects because of the ban is evidence that it is working.
Hamilton Hitchings said there is already a surplus of office workers parking in neighborhoods. He said he doesn't believe that continuing the current ban would be a big burden on city workers.
Mayor Adrian Fine said downtown businesses don't have room to build parking. A ban on in-lieu fees is a ban on new offices, said Fine. He said the ban stops mixed-use projects that have office space and housing.
"If you are killing the office component you are also killing the housing component," he said. "You get housing by promoting housing, not by stopping offices."
Councilman Tom DuBois and Councilwoman Alison Cormack agreed that the ban should be evaluated by the PTC before it is called off.
Kou wanted a year-long extension but agreed to six months at Cormack's request. Lait said requiring the evaluation to come back in six months would be hard for the Planning Department.
The council ultimately extended the ban for nine months. Kou, Cormack, DuBois and Councilman Eric Filseth voted for the extension. Fine, Councilwoman Liz Kniss and Councilman Greg Tanaka voted against it.