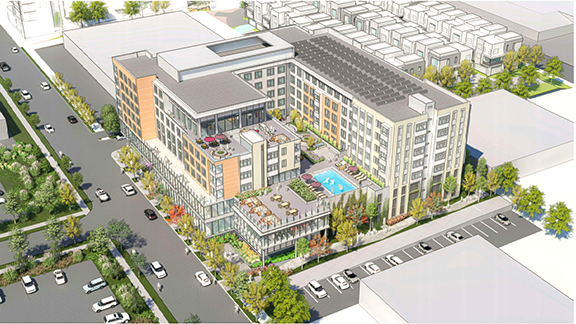 BY EMILY MIBACH
Daily Post Staff Writer
Menlo Park Planning Commission members said last night that housing developer Greystar should add a day care center or additional low-income housing to a project it wants to build between Facebook's West Campus and Marsh Road.
Greystar is proposing to build 158 apartments and 14,422-square-feet of commercial space at 165 Jefferson Drive.
The commission reviewed the development application in a study session last night (April 20). The commission was asked to weigh in on what community amenities it would like to see in the project.
Commission Chair Andrew Barnes said that he would like to see child care on the ground floor and urged that Greystar look for tenants for the commercial space. Commissioner Michele Tate agreed with Barnes' call for child care.
Commissioners Tate, Michael Doran, Larry Kahle and Chris DeCardy all mentioned the idea of adding more low-income housing.
So far, 21 of the apartments are reserved for low-income earners.
This project, dubbed Menlo Flats, is just one of three projects Greystar is proposing for the area east of Highway 101.
Between the three projects, Greystar is aiming to add 976 apartments and townhouses to Menlo Park. Currently, the other two projects, one consisting of 483 homes and the other, a mixed-use project with 33,000-square feet of office space and 335 homes, is under environmental review.