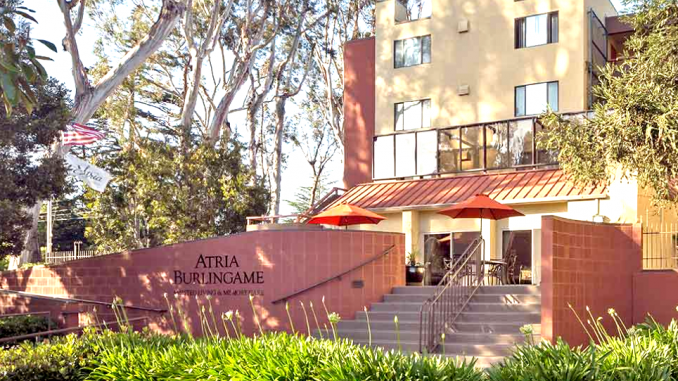 BY EMILY MIBACH
Daily Post Staff Writer
San Mateo County's Health Department announced today (March 25) four new deaths related to COVID-19, two of which were residents of a Burlingame senior living facility.
Two residents of Atria Burlingame at 250 Myrtle Road have died as a result of the virus, according to a statement from Mike Gentry, senior vice president of care at Atria.
One resident had died Monday and another died on Tuesday, according to Gentry. There have been five Atria residents who have tested positive for COVID-19, and the facility is currently locked down, only allowing employees and outside medical staff in. The five people who had tested positive for COVID-19 were hospitalized.
San Mateo County Health Department employees have been at Atria to make sure the facility has the proper measures in place so COVID-19 is not spread further, according to Gentry.
Atria offers apartments for more independent residents and assisted living facilities. It was not known whether the people who had contracted COVID-19 were part of the independent living facility or assisted facility.
Employees at Atria are taking residents' temperatures twice a day and they're taking the temperatures of anyone who comes into the building to ensure the virus isn't brought into the building. Employees' temperatures are checked three times a day and are receiving "symptom screenings," according to a statement from the facility. Meals are delivered to each resident.
The county announced two additional deaths today, both those of elderly people, though exact ages weren't revealed.
This brings San Mateo County's COVID-19 death total to five. There are 165 confirmed cases of the virus in the county.
In Santa Clara County, there have been 17 deaths and 459 confirmed cases.
"I believe the virus is growing at an exponential rate in our county," said San Mateo County Health Officer Scott Morrow in a statement Monday.
"Unless everyone does their part and follows the county's shelter-in-place order and the governor's Safer at Home order, we will be facing an Italy-type catastrophe very soon."
The San Mateo County Board of Supervisors created a fund Tuesday to support residents, non-profit organizations and small businesses that are hard hit by the outbreak. The board provided $3 million in seed money to launch the fund. Residents can donate at SMCStrong.org.