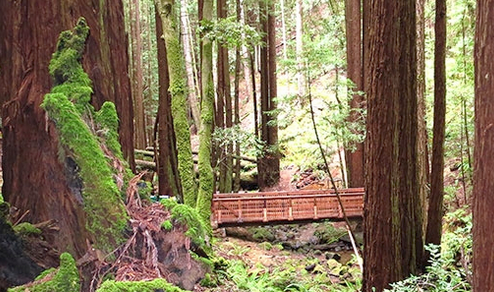 BY EMILY MIBACH
Daily Post Staff Writer
More parks and hiking trails in San Mateo County will be closed this weekend, as the attempt to limit gatherings amid the COVID-19 outbreak continues, the Midpeninsula Regional Open Space District announced.
The district, which owns and manages nature preserves in San Mateo and Santa Clara counties, announced yesterday that upon request of San Mateo County Health Officer Scott Morrow, it will be closing the parks in San Mateo County for the weekend.
County officials have said that since the stay-at-home order was issued a month ago, they have seen park, trail and beach use go up 300%.
Many of the parks that will be closed are along Skyline Boulevard, those include: Coal Creek, El Corte de Madera Creek, Russian Ridge and Skyline Ridge.
Others that will be closed include the Ravenswood Preserve in East Palo Alto, Los Trancos Preserve, off of Page Mill Road and Pulgas Ridge in San Carlos, Purisima Creek Redwoods in Half Moon Bay, La Honda Creek off of 84 in La Honda and Thornewood Preserve off of 84 in Woodside. The closures will occur on the weekends, with no end-date for the weekend closures announced.
Two of Midpen's preserves are already closed all week, Windy Hill in Portola Valley and Long Ridge near the border with Santa Cruz County.
Other parks closed too
Other popular parks and hiking areas have been closed as a result of the county's attempt to slow the spread of the virus. As a result, San Mateo County closed its parks and beaches.
Menlo Park officials last week announced it was closing Bedwell Bayfront Park after crowds double the size normally seen at the park packed the area, despite social distancing orders.
"Signage has been damaged, team sports have continued and complaints have risen," an entry on the city's COVID-19 update page says. "Many community members have expressed their concerns about what they have experienced in our parks and public spaces. The city has responded by increasing signage and awareness campaigns, and closing additional recreation facilities."
Stanford last Friday closed the ever-popular Dish hiking area, and said it will try to find ways to safely reopen the Dish.
Dog parks closed
Many other city parks are still open, however, the play equipment, picnic areas and sporting areas are all off-limits. Dog parks are also closed.
Health officials recommend to prevent the spread of COVID-19, to only travel to parks within five miles of your home. San Mateo County residents can go to https://community.zonehaven.com/ and enter in their address to see what parks, restaurants and medical centers are open.