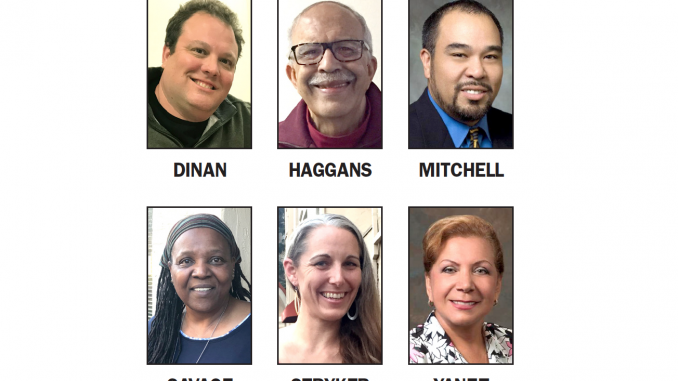 BY EMILY MIBACH
Daily Post Staff Writer
Six people are vying for three seats on the East Palo Alto Sanitary District board in Tuesday's election, with three challengers going up against three longtime incumbents.
Three challengers — Mark Dinan, Martha Stryker and Edrick Haggans — are facing the three incumbents, Glenda Savage, Goro Mitchell and Betsy Yanez.
In 2017, incumbents Dennis Scherzer (41.4%) and Joan Skyes-Miessi (38%) beat out challenger Luis Vizcardo (20.5%). Scherzer got 471 votes, Sykes-Miessi got 454 and Vizcardo got 226.
There are about 29,000 residents in the district and there were 1,151 votes cast, meaning 3.96% of eligible voters participated in that election.
In 2013, Scherzer and Sykes-Miessi were re-elected with 499 and 466 votes, respectively. Haggans ran that year and got 236 votes. In 2009, the same three candidates ran, and Scherzer and Sykes-Miessi each got 390 votes, while Haggans, the only challenger that year, received 369.
Those figures suggest that about 2% of residents in the district voted in those two elections.
Other times, the elections have been canceled altogether because there were no challengers.
The incumbents
Glenda Savage has been on the board since 2006 and from 1990 to 1994, Betsy Yanez since 2004 and Goro Mitchell since 2007.
Savage, 65, is retired after working in education for her career. Savage said she is running again to make sure seniors, those on fixed-incomes and long-term residents have a voice on the board. Savage says she is proud of the work that the board did in 2016 to restructure the district by eliminating some jobs and saving the district $500,000 a year since then. That restructuring has resulted in a lawsuit that is set to go to trial on July 27. Savage also says that she's proud that the board has managed to keep rates low for residents.
Mitchell, 52 a business owner who has a degree in city and environmental planning, says in his campaign literature, he takes credit for being one of the directors who voted against the district's staffing reorganization that resulted in the aforementioned lawsuit. Mitchell also says that he is the only candidate who did not accept a stipend increase last year, and has led efforts to limit travel by the board of directors.
Yanez, 73, is also on the city's public works commission and runs the business Betsy's Connexions, a translation business. In campaign literature, she takes credit for the reorganization that Mitchell says he voted against, but adds that the restructuring has saved the district $500,000 annually. Yanez also says that she has helped develop a fund for low-income ratepayers to pay for replacement pipes and worked on a set of ethics for the board.
The challengers
Haggans, 81, is a retired marketing manager, was on the board from 2001 to 2009 and has run a few times unsuccessfully since then. Haggans' main gripe with the current board is that it has enacted illegal rate increases. Haggans said that the district is supposed to mail out an annual notice to all ratepayers explaining how the rates will change for their parcels. Haggans said the district did not send out such notices, only general ones that weren't parcel-specific. By doing so, Haggans said the rate increases were illegal. He said he would stop the rate hike if elected.
Stryker, 40, is an elementary school teacher and the daughter of board member Scherzer. Her main focus is climate change and what the district can do to reduce carbon emitted into the atmosphere. Stryker wants to push the district and its partner agencies to look into a cheaper and greener way into getting rid of the sewage plant's "solids." In running for the district, Stryker said that she wants to give a voice to people like her who grew up in East Palo Alto in the 80s and 90s and are now hustling to be able to stay there.
Dinan, 46, is a tech recruiter who says he wants to bring honesty and transparency to the district, such as live-streaming meetings and efforts made to inform residents and city officials what is going on. Dinan also said he wants to develop a strategic plan so the district can plan ahead for the influx of development. Dinan has also expressed interest in learning more about the district's rates for developers and thinks travel for directors ought to be cut to one trip every two years. Right now, each board member can go on four trips a year as long as they don't spend over a certain amount.