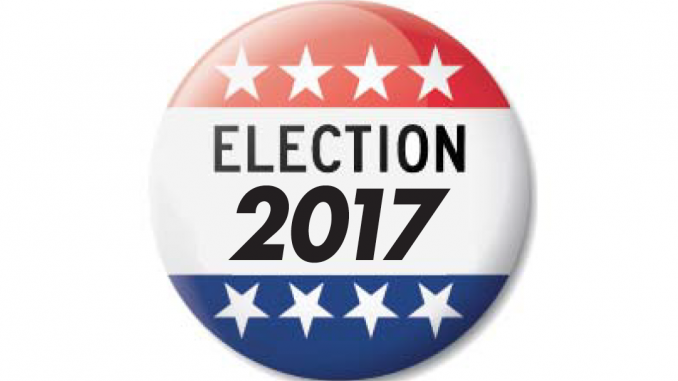 BY EMILY MIBACH
Daily Post Staff Writer
A parcel tax that's been around for 39 years in Atherton was voted down Tuesday (Nov. 7), while Eric Rodriguez is San Mateo's newest council member and Neil Layton was elected to the San Carlos Elementary School District board.
Those were some of the results of Tuesday's election, according to preliminary figures from the San Mateo County Elections Department.
Burlingame
While Atherton voters got rid of a tax, Burlingame residents approved a new quarter-cent sales tax for pothole repairs, police and the updating of the city's parks and recreation center. The tax got 62.9% of the vote, well above the majority threshold needed for passage.
Burlingame residents also re-elected incumbents Ann Keighran, Michael Brownrigg and Ricardo Ortiz to City Council. The only challenger was Steve Duncan. As of last night, Keighran had 29.7% of the vote, followed by Ortiz with 29.6%, Brownrigg at 28.9% and Duncan with 11.8%.
Burlingame School District board incumbents Kay Coskey (25.7%) and Davina Drabkin (23.8%) were both re-elected while Elizabeth Kendall (27.5%) took the seat held by appointed incumbent Doug Luftman (22.9%).
Atherton
In Atherton, the $750 per parcel tax, which brings in about $1.8 million annually, failed. It needed to be approved by two-thirds of the voters but only got 50.5% of the vote. The tally was 783 in favor to 768 against.
The tax brings in 13% of the town government's revenues, but opponents such as Sandy Crittenden said it's no longer needed since the town's other source of revenue, property taxes, have been growing at 5% a year.
Proponents of the parcel tax said it was needed until 2020 when large projects like the new Civic Center and new drainage systems are finished.
San Mateo
San Mateo residents re-elected Councilmen Rick Bonilla and Joe Goethals to council, and Planning Commissioner Eric Rodriguez won the third seat up for grabs.
Goethals got 22.3% of the vote, followed by Bonilla (20.4%) and Rodriguez (20.1%) . The three beat out Chelsea Bonini (16.6%), Charlie Dreschler (8.8%), Robert Newsom Jr. (7.8%) and Mark De Paula (4%).
Bonini and Rodriguez were the two front-runners to take David Lim's seat, who decided not to run for re-election. Bonini, currently president of the San Mateo-Foster City School District Board, gave up her seat on the board in order to run for council.
Voters got a lot of mailers supporting Rodriguez, who benefited from $123,216.46 in fundraising as of Nov. 3 by his campaign committee or independent committees that promoted him. Those committees were set up by the National Association of Realtors and the California Apartments Association, who successfully fought last year's rent control measure.
Bonini was in favor of bringing back discussions of rent control to the council.
The San Mateo-Foster City School District board will get three newcomers. Shara Watkins (who received 25.4% of the vote), Noelia Corzo (21.5%) and Rebecca Hitchcock (15.8%) beat rivals Shiraz Kanga (12.1%), Thomas Morgan (11.4%), Alexlander Haislip (7.0%) and Jacob Thiel (6.9%). None of the incumbents — Bonini, Ed Coady and Lory Lawson — sought re-election.
San Mateo voters also approved  two ballot measures — one to take old language out of the city's charter (Measure H, which got 80.8% approval), which can only be changed through a vote. The other is to change council elections to even-numbered years (Measure B, which got 80.7% approval), as required by a new state law. Both required a 51% majority to be enacted.
San Carlos
The San Carlos Elementary School Board saw the re-election of Carol Elliott (30.8%) and Kathleen Farley (28.3%), while adding Neil Layton to the board (30.1%), who beat out Thomas Vigdal (10.8%)
Portola Valley
Portola Valley Elementary School District will get three new faces, as the only incumbent running, Karen Tate, withdrew her candidacy last month due to health concerns. Newcomers Jeff Klugman (30.6%), Karyn Bechtel (30.2%) and Michael Maffia (23.8%) were all elected. Despite dropping out, Tate still got 15.3% of the vote.
San Mateo Highlands District
In the Highlands, a small section of unincorporated San Mateo County, Andrew Aquino (54.9%) defeated Rachael Webster (45.1%) for a seat on the area's recreation district board. The vote was 197 for Aquino to 162 for Webster.
East Palo Alto Sanitary District
In the East Palo Alto Sanitary District race, incumbents Dennis Scherzer (41.4%) and Joan Skyes-Miessi (38%) beat out challenger Luis Vizcardo (20.5%). Scherzer got 358 votes, Sykes-Miessi 328 and Vizcardo 177.