BY ALLISON LEVITSKY
Daily Post Staff Writer
A man and woman suspected of helping two inmates escape from the Palo Alto courthouse were arrested today (Nov. 7), though the two men who escaped remain on the run.
Marquita Kirk, 44, a former risk manager at the Ravenswood City School District in East Palo Alto, was arrested at her Sunnyvale home around 5 a.m.
Just before 7 p.m., sheriff's officials announced that Rene Hunt, 54, of East Palo Alto, had been arrested but didn't say when or where he was taken into custody.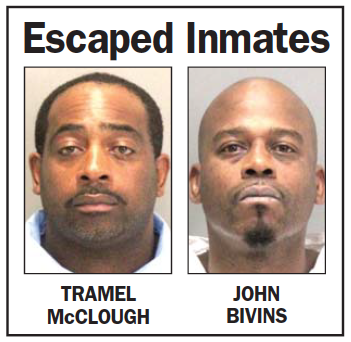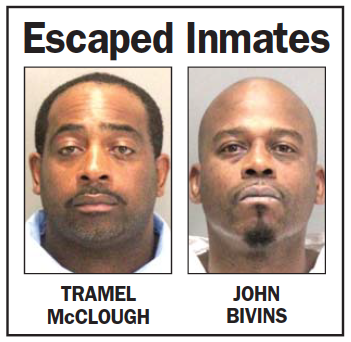 Both alleged accomplices were booked into jail on suspicion of felony conspiracy and accessory after the fact. Kirk is being held on $50,000 bail at the Elmwood Correctional Facility in Milpitas. She is scheduled to appear in court Thursday afternoon.
Kirk has a longstanding relationship with escapee Tramel Leon McClough, 46, of East Palo Alto. She is suspected of renting the U-Haul moving van that McClough and John Penn Bivins, 47, of East Palo Alto, escaped in near the courthouse at 270 Grant Ave.
According to her Facebook page, Kirk grew up in Missouri and studied pharmacy at Sawyer College in Hammond, Ind. in the 1990s.
After leaving her job at Ravenswood in 2006, she worked as an administrative manager at ChemGenex Pharmaceuticals Ltd. in Menlo Park from 2007 to 2009. In 2012, she graduated with a business administration degree from Notre Dame de Namur University in Belmont.
According to McClough's Facebook, he grew up in East Palo Alto and went to Woodside High School. Hunt is from Picayune, Miss., according to his Facebook profile.
Sheriff's officials have been searching around the clock for McClough and Bivins since they escaped around 9:30 a.m. Monday.
The two broke free from a deputy in a public hallway and ran down a flight of stairs and through the side emergency exit nearest the corner of Grant Avenue and Birch Street.
Outside, the pair got into a 1980s black Toyota Corolla, which they ditched about a block away at Park Boulevard and Sheridan Avenue for a U-Haul van. The Corolla was bought over the weekend and had not been registered by the new owner, according to a report from Channel 5.
A handcuff key was found outside the courthouse, sheriff's officials said. The two were wearing orange jail shirts and gray pants and are considered dangerous.