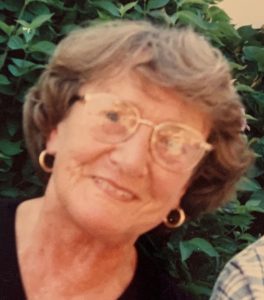 November 9, 1927 – November 7, 2019
Barbara Jean Jensen passed away peacefully in Phoenix, Arizona, on Thursday, Nov. 7, 2019, just two days before her 92nd birthday.
Barbara was born in Chicago, Illinois, to Anton and Emma Danielson on November 9, 1927, and moved to Redwood City as a child. She attended Sequoia High School and worked in retail in downtown Palo Alto. In 1948, she married her high school sweetheart, Peter Jensen. They raised six children: Linda (Todd), Craig (Rhonda), Scott, Peter, Robyn (Steve), and Jim (Wendy) in Palo Alto. Barbara worked as a sales clerk at the Palo Alto Drug Company from 1965-1989.
She was widowed in 1999 and later moved to Tucson, Arizona and San Diego, California. At the time of her death, she had been living in Glendale, Arizona, with daughter, Robyn, and her family. In addition to her children, survivors include eight grandchildren and soon to be five great-grandchildren, who will all miss her dearly. She was preceded in death by her husband, Peter, and son, Scott. A family memorial will be held at Skylawn Memorial Park on November 23, 2019.