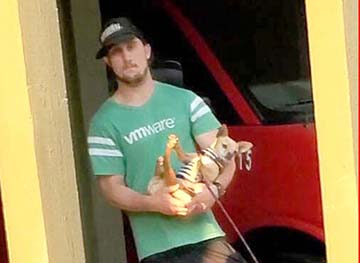 BY EMILY MIBACH
Daily Post Staff Writer
Redwood City Police have arrested a man who had been seen slamming a dog into the pavement.
On Oct. 27, a resident heard an odd noise coming from the trail just off of Avocet Drive in Redwood Shores. The man checked his security cameras and saw a man, later identified as Michael Fore, pulling a chihuahua by its leash, swinging it into the air, and then forcefully slamming the dog into the ground, said Capt. John Gunderson.
The resident went outside and tried to chase Fore, but he got away.
On Wednesday (Oct. 30), police asked for the public's help by posting a photo of the man with the dog on Facebook and other social media platforms. Redwood City detectives got many tips as to Fore's identity and were able to arrest him yesterday at his East Palo Alto home, Gunderson said.
When officers arrived at Fore's Newell Road home, Fore climbed out of his balcony onto the roof of his apartment complex, according to Gunderson.
Officers were ultimately able to arrest Fore.
Officers also found out that the dog Fore brutalized wasn't his, but in fact belonged to an acquaintance who did not know about the mistreatment at all. The dog appeared to have no injuries.
Fore was booked into jail on suspicion of two counts of animal cruelty. He is expected to be in court tomorrow and is in jail in lieu of $50,000.