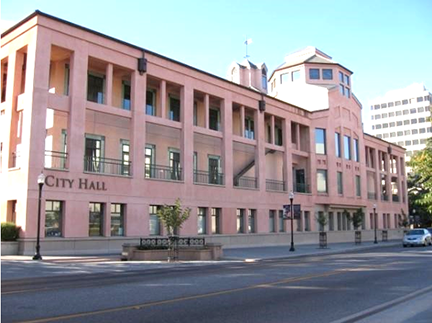 BY ELAINE GOODMAN
Daily Post Correspondent
As more rent-controlled apartment buildings in Mountain View are being torn down to make way for new development — leaving residents scrambling for a place to live — the City Council tonight (Oct. 29) will start examining solutions to tenant displacement.
Buying up apartment buildings at risk of being torn down is one idea the council might discuss during the study session that begins at 5 p.m. at City Hall.
Another strategy could be requiring developers who tear down apartments to help the displaced tenants.
A report to the council for tonight's meeting notes that a combination of strategies could be used.
For example, developers could reserve units in a new development for tenants who have been displaced by demolition of their apartments. In the example, the new building contains more units than the one torn down.
And while the tenants are waiting for their new homes to be completed, they could stay in apartments that have been set aside for that purpose through a partnership between the city and landlords, according to the example in the report.
Among the 20,000 rental units in Mountain View, 14,851 units on 708 parcels are covered by rent control. Mountain View voters in 2016 approved rent control, which limits annual rent increases for properties with three or more units first occupied before February 1995.
Tear-down applications
Since 2012, Mountain View has received 32 applications for projects that involve tearing down apartments, with a combined total of 1,015 housing units. Twenty-one of the applications have been approved; the others are pending.
All of the tear-downs involve older buildings that are rent-controlled, or would have been if rent control was in place at the time.
Among the recent projects is a plan from developer Dividend Homes to replace 59 rent-controlled apartments at 2310 Rock St. with 55 market-rate townhouses. The council approved the project in April.
In March, the council approved Dividend Homes' plan to tear down 34 apartments at 1950 Montecito Ave. and replace them with 33 townhouses.
Tenants displaced by the demolitions include long-term residents who have roots in the community and children who are attending local schools. If forced to move, some say they wouldn't be able to afford to stay in Mountain View and might have to leave the Bay area completely or even move to another state.
Residents of Gamel Way showed up at the council's meeting on Oct. 1 to express concern about a proposed 118-condominium building that would replace 29 rent-controlled apartments in seven buildings on the street.
"I have never lived in a more supportive, kind, generous community in my life," Gael Sisich, an eight-year resident of Gamel Way, told the council.
Rent control blamed
Critics of rent control argue that it pushes landlords to convert their buildings into for-sale condos or to demolish apartments and replace them with newer units to which rent control doesn't apply.
"In the long run, the key to making housing more affordable is to build more homes," the Washington Post editorial board wrote last month in arguing against rent control.
The 32 development applications that Mountain View has approved or is processing would replace 1,015 rent-controlled apartments with a total of 2,386 new units, for a potential increase of 1,371 units. About half of the new units are market rate rentals and 40% are for-sale homes, according to the report to the council, from Assistant Community Development Director Wayne Chen.
Rowhouses or townhouses seem to be a popular replacement.
"A potential factor for this is that the allowable density … and the pricing of those units (between $1.4 million and $2.1 million) have made rowhouse/townhouse products highly profitable," Chen wrote.
The report notes that more than 90% of the rent-controlled units in the city were built between 1950 and 1980.
"Residential structures this old are often nearing or at the end of their useful lives and require improvements/rehabilitation or are susceptible to redevelopment into new units," Chen said.
The rate of sales of older apartment buildings, which would have been covered by rent control, was higher before rent control took effect, the report said. And the rate of sales of rent-controlled units in Mountain View is the same or less than the rate of multi-family sales in several neighboring cities, including those without rent control, according to the report.