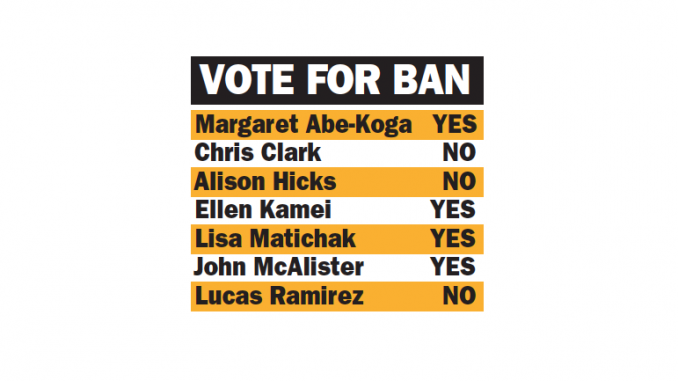 BY SARA TABIN
Daily Post Staff Writer
Mountain View City Council has voted 4-3 to ban RVs from parking on narrow streets, but supporters of car campers said they will repeal the ban at the polls.
Dozens of residents spoke against the ban prior to the vote on Tuesday (Sept. 24) while only a couple supported it.
Mountain View Mayor Lisa Matichak said the proposed ban arose from complaints about streets lined with RVs. She said many people have asked for such a ban during office hours or in emails.
"While we had a lot of people show up tonight that are of one perspective, there have been large numbers of people over the past three years that have been asking us to address this issue," she said.
Former Mayor Lenny Siegel said the council is using a "sneaky" means to outlaw motorhomes in the city by calling it a safety issue. He said he will circulate a referendum petition to overturn the ban.
Michael Trujillo, a lawyer with the Law Foundation of Silicon Valley, said the ban would leave virtually no spaces for people living in RVs to park in the entire city. He said such a ban violates the Constitution and the U.S. Fair Housing Act.
Ayinde Rudolph, superintendent of the Mountain View Whisman School District, said the district is concerned about their 148 homeless students, 21 of whom currently live in RVs. If families are forced to move to other towns, the district will be responsible for shuttling them to and from school, he added.
Safety concerns
Vice Mayor Margaret Abe-Koga, who voted for the ban, said she wants safety measures implemented before the city sees an accident. The concern is that with RVs lining the streets, it gives bicyclists less room to avoid traffic and reduces the visibility of both drivers and cyclists.
Other safety measures that might protect bikers, such as red curbs or protected bike lanes, were suggested by some people.
People living in RVs also spoke at the meeting. Barton Lunsford, a personal trainer, said he was unable to save any money paying $3,000 a month in rent. He moved into an RV so that he isn't broke when he gets old, he said.
The three council members who voted against the ban — Chris Clark, Alison Hicks and Lucas Ramirez — said they would have favored the ban if it went into effect only when council decides the city's current "shelter crisis" is over. The council decided in March that the city had a "shelter crisis," meaning there were too many people without homes.
However, the ordinance that passed last night says the ban will go into effect in June.
The Mountain View Police Department found 298 vehicles being used as homes during a study they conducted in July. Of these, 207 were RVs.